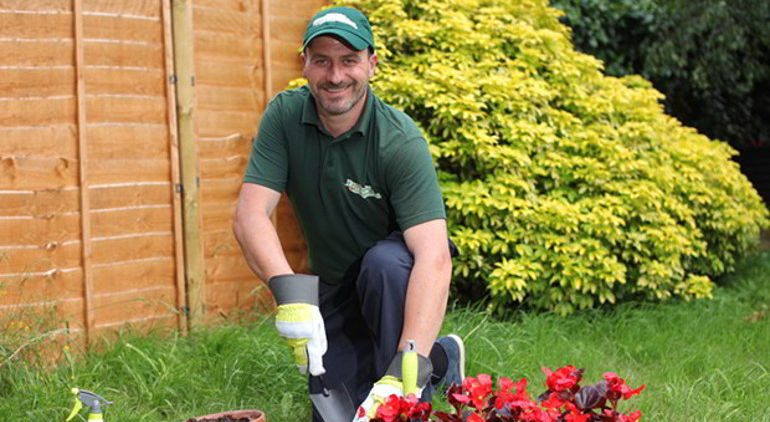 Is there anything more motivating to do your job better than some positive feedback? When we garden for you, our priority is to not only to provide the best solution, but also make you as happy as possible. So when you, dear customers, praise us in one way or another, we know that we'll do our best over and over again.
You really do enjoy our services, don't you?
Here is how you can tell that you are a happy Fantastic Gardeners Customer
1. Your pet alerts you wherever, whenever he/she spots us
Pulled up next to @FantasticGarden van in traffic this morning – my max started growling & barking at this man!! Haha pic.twitter.com/nv54FxHscy

— Selina Serbin (@QueensPonies) May 12, 2015
2. You are welcome to take selfies while we are on site
3.Or instagram us while we are working
good skills on using the frames though
4. You are welcome to give us ideas to inspire us
@FantasticGarden can you grow these? #wood #art @UKBusinessRT pic.twitter.com/NL23zdWz24

— richard balaam (@richard_balaam) May 12, 2015
5. You want to share us with your friends
@sitdowncomedian @designscold most welcome! I've only used them for maintenance and clearing/cleaning up, but they were solid & good value.

— Louisa Heinrich (@customdeluxe) June 24, 2015
6. You use the word "fantastic" to express your gratitude – most of you actually do – just count for yourself
Indeed Fantastic
fantastic gardeners were indeed fantastic. from mrs havesham's thicket to garden in 4hrs flat. http://t.co/fZ9uqAf2zB pic.twitter.com/7nevyY26Iq

— Louisa Heinrich (@customdeluxe) June 12, 2014
Fantastic
@Fantastic fantastic service and grey job done today by the @FantasticGarden in E2. Thanks! Will be back for more work in the future.

— Jo Behari (@jobehari) December 4, 2014
Fantastic again
Often simple is beautiful. I saw a garderner at work from Fantastic Gardeners. Simple and obvious company name, but I'll remember them.

— Zeinegul Salimova (@StratenergyUK) October 10, 2014
Amazing
Amazing job (in the rain) by @fantasticgarden today. Hoping for sunshine this weekend now! pic.twitter.com/z4Iso2UWhg

— Claire Panter (@ClairePanter) April 29, 2015
 So how do you know that Fantastic Gardeners are indeed fantastic?
You experience it.