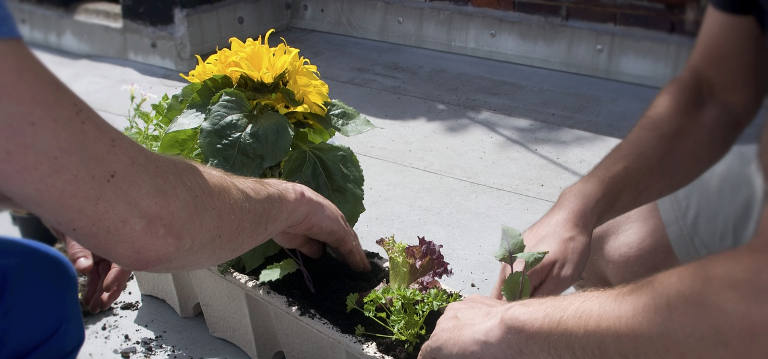 The Chelsea Fringe Festival didn't skip us this year as well. And, of course, as the past editions of the fest – it was one of the greatest gardening events, not only in the UK but worldwide, with over 200 smaller events in its program. As its famous nature implies, being defined as "alternative", it included everything that was ever related to gardening – music, food, art and whatnot. Extravagant performances weren't absent as well – Guerrilla Gardening (that's the occasion on which a group of strangers illegally perform gardening activities in someone else's garden without their permission), beer party in the backyard, a tower made of old boots from which flowers grow, a bee hotel installation, tastings of cakes made mostly of flower based ingredients, needle-felted birds and pods from professional textile artists, and even a futuristic greenhouse pneumatic bubble.
"It is to celebrate all of the community gardening, the guerrilla gardening, the art installations, the designers doing work, the restaurants, the food grows, giving them a platform, a collective way of expressing what they do." – says Tim Richardson, the event's director.
It is hardly imaginable in how many ways you can connect gardening to your everyday eccentric ideas.
Some of the better-known new additions from this year's Chelsea Fringe Festival:
Pop-Up Art Gardens
Art gardens popping up in random places within the Royal Botanic Gardens Melbourne and Cranbourne. And more specifically in Promenade Plaza and the Dunlop Plaza, Melbourne Gardens. The creators of the gardens are students who explore and try to express the meaning of all gardens – Plants are a great and maintain life itself.
Pickup Pollinators Truck
Old unused pickup trucks now got renovated in a rather unexpected way – they were filled with pollinator-friendly edible plants sticking out of every imaginable gap of the vehicle. The meaning was to be shown that pollinating insects are of top importance to our food-growing success.
Honeycomb Meadow of Wildflowers
Again, another creative way to show the people of Bristol (and beyond) how much building bee and pollinator-friendly environment would mean. Every city should be able to provide the pollinating insects with a mellow rich source of pollen and nectar. The installation consisted of oddly shaped mobile planters, interlinked with each other.
Edible Garden Trails
A project of Incredible Edible Bristol, growing garden trails located all around the city. The fun part was that people were able to just pick up everything that was ready to eat and harvest! The locations:
Castle Park BS1 5TA;
Millennium Square BS1 5LL;
Straits Parade BS16 2LE;
Behind the Ardagh Community building BS6 7YL.
And Even A Sit-on-me Turf
A piece of turf especially made for people to sit on and appreciate the present moment. How sweet!
Of course, the local big names took part in this enticing gardening event, including the Bristol Food Network, The River of Flowers, Bee Bristol, Incredible Edible Bristol and more!
With this year's performance of the Bristol's Grant Festival it is safe to say we, at Fantastic Gardeners, are anticipating and growing impatient for what follows up the next one!
Chelsea Fringe, surprise us again, please!