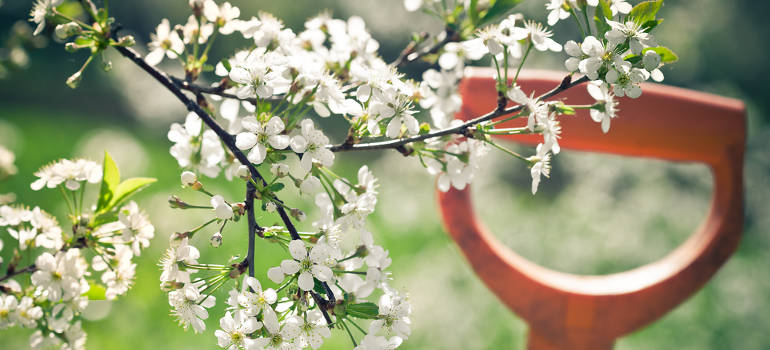 For many gardeners the cold weather signals that the time has come to pack up their tools until spring, however that does not have to be the case.
The winter months present the perfect opportunity for you to prepare your garden for a new life. So why not save yourself a bit of trouble when the temperatures finally start to rise again? To help you out with this task, we present to you a list of expert spring gardening tips you can use to ease your workload come spring.
Let's begin!
Spring gardening checklist
Let's outline some important steps to follow when maintaining a garden in early spring: 
1. Visualise your garden
Before you begin planting, take some time to map out your outdoor space. Observe how much sunlight and shade each area receives, your soil type, and your pH level. This information lets you select the perfect variety of plants to thrive in your unique environment.
2. Choose types of greenery to add to the garden 
Start by choosing your preferable flowers. Some of the best spring blooms are tulips, daffodils, crocuses, and hyacinths. You can write notes in the mid of February about what flowers are missing in your garden. This will help you decide how to take care of them during the rest of the year.
It's also a good idea to time your planting. Timing is everything when it comes to planting in the spring. Plant your flowers when the soil is warm enough for roots to take hold. This usually means planting in early to mid-spring, depending on the weather conditions during this time of the year.
Early spring is the perfect time to plant perennials, trees and shrubs. So, here are our tips on how to maintain your garden depending on your choices.
Perennial plants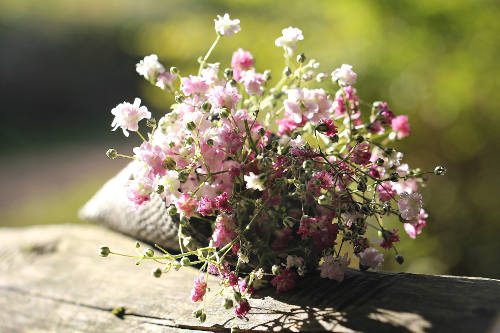 Perennial blooms usually last up to six weeks while annuals can last from the moment they are planted throughout the entire summer.
Around four years after planting, many perennials can be dug up and divided to make more flowers.
Planting perennials may not always result in blooms in the first season, so be patient.
The best time to plant perennials is after the last frost, but hydrangeas and other perennials can also be planted during the fall.
Trees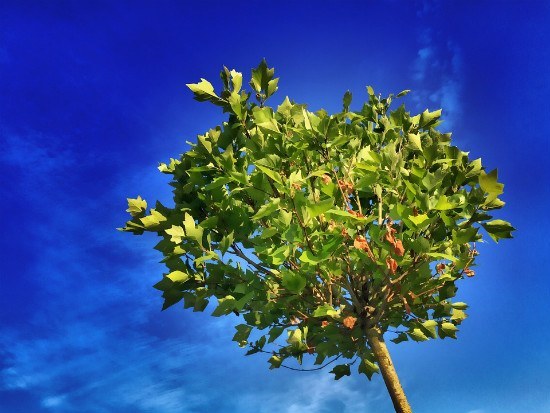 Even if your garden space is limited, you can still create an enchanting display of spring blooms. The secret is to choose the right size trees that fit your space. You can purchase bare-root trees between November and March or in containers yearly. Planting them in autumn or early spring is best to ensure their successful growth.
But how do you choose the perfect tree? Of course, personal taste, colour, and scent are important factors, but don't forget to consider the plant's soil preferences and final growing size. 
If you have room for more than one tree, think about how they can complement each other. You can choose trees that bloom in contrasting colours. Maybe you want a tree that endures throughout the year or one that produces fruit. Fruit tree blossoms, in particular, are excellent for attracting pollinating insects.
Here are some of our favourite picks for home gardens:
Manchurian Siberian crab apple (Malus baccata var. mandshurica)
Dwarf Russian almond (Prunus tenella 'Fire Hill')
Judas tree (Cercis siliquastrum)
Cultivated pear (Pyrus communis)
Kanzan cherry (Prunus 'Kanzan')
Discovery apple (Malus domestica 'Discovery')
Shrubs
Shrubs can add beauty and shape to a garden, and with the right care, they can thrive for a long time. Keep in mind the growth habit and size of the shrubs you've chosen. Some shrubs are slow-growing and compact, while others can quickly become large and require significant pruning.
Plan the most appropriate shrubs: You should take into account the sunlight and the condition of your garden soil, before choosing your preferred shrubs. Some shrubs prefer the sun, whereas others can thrive in partial or full shade.
Prune shrubs frequently: you can keep shrubs in good condition by pruning them regularly. This method promotes the growth and maintains their shape. Make sure you use clean and sharp tools to prevent damage and reduce the risk of disease.
Remove dead or damaged branches: such branches can attract pests. Also, to retain moisture and prevent weeds from growing, you can mulch the base of the shrubs.
3. Decide what vegetables to grow in the spring
Some of the most well-known vegetables you can grow in early spring are peas, lettuce, spinach, radishes, and turnips. Think very carefully about what is the climate, the soil type and, of course, your personal preference when choosing your vegetables. These vegetables can withstand cooler temperatures and even frosts. Other vegetables that can survive even colder temperatures are broccoli, cauliflower, cabbage, and kale.
Chit potato tubers
We've seen this tip pop up every now and then in February towards the beginning of spring. The term chitting is used for a gardening trick that helps the potato tubers (a.k.a. Seed potatoes) extend their period of growth. Ultimately, this raises the amount of crop later in the yielding season.
Since the soil is still not warm enough to plant them, you can place the tubers in a container until the sprouts shoot in a few weeks' time. Make sure the space is bright, cool and especially, free of frostbite.
4. Maintain your lawn by improving drainage and aeration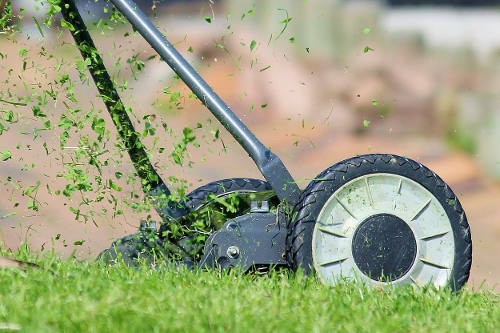 First step is to prepare your soil. You can improve the soil's fertility and structure with the help of compost or other organic matter. Don't forget to remove weed and debris.
Rake out old grass and moss, and the pathways where the soil can become compacted. Moreover, you can improve the drainage and aeration by making deep holes with a garden fork. You can add them every 10 cm or so.
For more info on how to take care of your lawn throughout the year, visit our lawn care calendar.
5. Water regularly
Don't let your beautiful blooms dry out! Regular watering is the secret to keeping the soil moist and your flowers thriving.
Need a professional gardener?
Enter your postcode to view our rates and availability in your area.
6. Fertilise with care
To keep flowers healthy and abundant, use a balanced fertiliser or slow-release pellets. This will provide the nutrients they need to flourish.
7. Deadhead regularly
Maintain a neat garden by deadheading flowers on a regular basis. Not only will this encourage more blooming, but it'll also make your garden look lovely.
8. Mulch
Mulching around your spring veggies can help retain moisture and suppress unwanted weeds. Choose natural mulch like bark or straw to achieve optimal results.
9. Start a compost to dispose of garden waste
If you haven't already started composting, what are you waiting for? Composting is a perfect natural way to provide your crops with much needed nutrients, all the while finding a useful way to dispose of fallen leaves and cuttings.
If you already do have a composting pile, the end of autumn will be the ideal time for you to use up your year's reserves and make room for the new season's garden waste.
10. Keep an eye out for pests
Pay attention to the uninvited guests, as spring veggies can be attractive to pests like aphids and slugs. Inspect regularly and take actions as needed to keep the annoying pests away from your beloved garden
11. Make your garden wildlife-accessible to help your local fauna
One easy way to make your garden more manageable is to let it run wild and create an environment that will invite your local fauna. Pick flowers like violets and marigold that will attract beneficial pollinating insects like bees and butterflies.
Planting edible shrubs and placing small water ponds will catch the attention of friendly birds and mammals. A wildlife garden is an opportunity to help out your neighbourhood animals that come to visit often and in return they will help you out as well during the warmer seasons.
12. Clean out and wash your greenhouse
Spring is the perfect time to clean out your greenhouse, ready for seedlings and cuttings.
Usually, it's best to clean it deep in winter. If you grow plants that grow all year-round, you should clean the greenhouse a bit earlier in the winter season. However, if you grow summer vegetables, such as tomatoes or peppers, it needs to be maintained in January or February.
Don't forget to open up those vents and windows to let the fresh air in and dry everything out.
Now that your greenhouse is sparkling clean, inspect the structure for any damage to glass or vents. Look for weaknesses or signs of rot or fix anything broken due to the strong winter winds.
Replace any broken parts to keep your greenhouse in tip-top shape and ready for the gardening season!
Check our greenhouse maintenance guide for additional info on how to control humidity and pests.
13. Repair tools and equipment to get ready for the spring workload
What better way to prepare yourself for the springtime garden workload than to get all your tools primed and ready? It's time you finally fixed the stitching of your lucky gardening pants, or get new gloves to work on the crops you'll be trying out soon.
You can also invest some time in sharpening and spring cleaning your tools, as blunt ones do more harm than good.
You should also pay some attention to your lawnmower and get it ready for work come spring.
14. Check on trees to prevent damage
If your soils are soft, check on your younger trees as their roots would still be pretty shallow and could be knocked over and cause structural damage.
Don't forget to check the older trees as well for any rot that could affect their roots and make them weaker.
Takeaways
Spring gardening is not so easy. It takes time and effort to get started and to be consistent if you want your garden plants to bloom and thrive beautifully.
Consider a detailed plan on the steps to follow from the beginning to the moment you winterise the backyard.
Think very carefully about what flowers, trees or veggies you are ready to take care of.
Prepare the soil, the location and the whole landscaping of the garden that you wish to achieve.
Think of the pests you might encounter and prepare to control.
Clean and maintain the whole garden and greenhouse
Organise your tools and equipment very well.
---
Need help with the gardening tasks this spring?
Enter your postcode to view our rates and availability in your area.
***
Even though most gardeners put away their tools when the cold seasons roll by, that does not mean there are not plenty of chores that could be done during this time. Plenty of preparations can be done to make your spring work more enjoyable.
How do you prepare during the winter season? Do you have any other early spring tips for the garden you'd like to share? Leave us a comment below or give us a shout in social!

Header image source: Larisa Lofitskaya/ Shutterstock.com