September is almost over, and autumn finally arrived. The weather gets moody, and there aren't many sunny days to enjoy in the garden. However, this doesn't mean there aren't any October gardening jobs. If you are done with all of the essential gardening jobs for September, check out our suggestions about what to do in the garden in October.
Weeding
October is the perfect time to tackle this gardening task if you haven't weeded your garden already. Weeding is an ongoing gardening job you can do even in October. Weeds are very stubborn, especially in warmer periods, so don't leave them to grow stronger. Try to dig them out so you can get them out with roots, rather than pulling them up, as this may just cut them in half.
Tip: Remember to leave the seedheads for your feathered friends, the birds, and a few patches with grass and wild flowers for any pollinators and small critters.
Clear leaves
Remember that leaf clearance should be on your October to-do gardening list. Trees might take a while to shed all of their leaves, so regularly clean the fallen autumn foliage. By clearing the leaves, you will prevent the spread of any unwanted diseases and pests.
If you think this job is too tiring and you don't want to spend your afternoon raking leaves in the garden this October, you can call us, and we'll be more than happy to help you with your garden clearance tasks
Start your compost
After tidying up your garden beds and borders, you end up with a lot of garden waste that's perfect for composting. It's a good idea to start your compost as an October gardening task. It's normal for the composting process to take longer during cold days, but you will see quick progress once the weather gets warmer.
You will need a big bin, or you could build your compost bin out of unused pallets and all of the garden waste from your October garden clearance. You can add spent vegetables and fruits, moss, cuttings from the lawn, hedge clippings, and kitchen scraps. Compost adds organic richness and minerals to the ground and provides food for your plants.
Cut back hardy perennials
As part of your October gardening jobs, cut back perennial plants that are hardy enough to withstand winter to keep them tidy and reduce frost risks. Get rid of dead stems, flowerheads, and leaves that have been left torn or battered after the summer.
Take care of your roses
Roses that are rambling and climbing should be pruned and tied in before autumn winds cause damage. It is essential to deadhead blooms and remove any leaves that have succumbed to black spots, a fungal disease that is extremely common on roses. It's late to treat with fungicide, but this October gardening job will help the plant grow healthier.
Beautify the lawn
A good gardening tip for October is to keep maintaining your lawn. Water regularly and mow it once a fortnight. October is also a good time to carry out any additional autumn lawn care procedures such as scarifying, aeration and adding a top dressing of soil. Don't forget to repair bumps and hollows and take care of bald patches.
October is your last chance to sow new grass seeds. If you want to turn an empty garden spot into a lavish lawn, now is the perfect time to do it. This may not be your regular October gardening job, but you can take advantage of the perfect planting conditions and sow new grass seeds now. Once spring arrives, you will have a thick, green lawn that will make your neighbours turn heads with envy.
Clean that greenhouse
We advised you to clean your greenhouse in September, but if you haven't done it already, you can do so this October. After you remove all of the dead plants, thoroughly clean the greenhouse windows, inside and outside, to provide more light to the plants. Use a disinfectant to scrub all benches, fixtures and glazing bars and finish with a good washing with the hose.
Don't forget about watering
People tend to neglect their plants once the weather cools down. Just because autumn has arrived, it doesn't mean that your greens don't need watering. Keep an eye on your potted plants and check for wilting leaves. It may be not that hot outside, but pot-bound greens can dry out completely if you leave them without water for too long.
Don't forget about trees and shrubs, especially the ones you've planted in recent years. Make sure that the soil around them is free from grass and weeds. Water them regularly and spread a layer of mulch around. This will help retain moisture in the soil.
---
What flowers and vegetables to plant in October?
---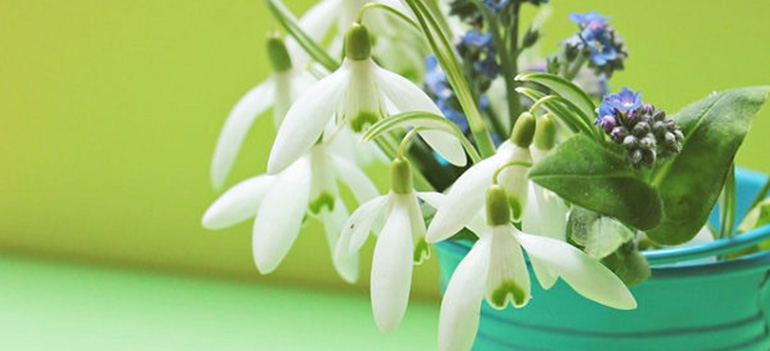 What flowers can be planted in October?
Many winter plants can be used in the garden, especially in seasonal pots and containers. You can create a low-maintenance, high-impact planting scheme with the right plants to brighten up your days.
Here is a short list of flowers you can plant in October :
Snowdrops – In October or November, Snowdrops can be planted as bulbs, and if the weather does not permit planting, the bulbs can be stored in a cool, shady location.
Wintergreen, Gaultheria procumbens – Gaultheria prefers partial shade over direct sunlight and will thrive in full shade as well, so it'll brighten up any dull spots in your garden.
Cyclamen – While they prefer cool weather and bloom in the winter, cyclamen plants can't tolerate temperatures below freezing, so you need to grow them in a greenhouse or in pots.
Carex – Plant in a well-drained but moisture-retentive soil.
Skimmia' Rubella' – The plant is ideal for use in autumn or winter containers or as a border filler.
Christmas rose – The best place to plant Christmas Roses is in a garden sheltered from the midday sun.
Winter heather – Heathers can be planted in containers or outdoors in well-draining soil rich in organic matter. Try to find a sunny position for this plant to get vibrant foliage.
If the soil is still warm, you can plant evergreen shrubs and conifer hedges.
Split-up Spring-flowering perennials
Herbaceous perennials that bloom in the spring should be divided to ensure that they remain healthy and vigorous year after year. Ideally, you should do this on a dry day when the soil is not too wet. The newly divided plants can be planted in the ground, or you can pot them.
Plant Spring-flowering bulbs
Popular spring bulb varieties such as daffodils and tulips grow best in sunny, dry spots, so make sure to plant them in areas that receive a decent amount of sunlight.
They are easy and rewarding garden plants to grow. When planting in beds, mix compost into the soil to provide rich nutrients for the bulbs to start flourishing.
Keep the compost moist rather than wet when planting spring bulbs in containers.
Prepare the pots
Make sure your pots are winter-ready before you plant. Pots made of clay or terracotta are prone to cracking in frost, so choose pots and containers that are frost-proof. Plastic, fibreglass, wooden, treated terracotta, and clay are good materials for winter pots. When temperatures plummet, opt for pots labelled frost-proof instead of frost-resistant. Water can drain away by standing pots on blocks or pot feet over the winter, reducing the risk of frost damage.
Protect the tender plants
Lift and pot up tender perennials, such as canna, chocolate cosmos, gazanias and coleus, to avoid frost damage, dry off the tubers and store in cool dark conditions until spring. Bring such plants indoors before they get killed by the low temperatures. Try to keep them dry, so they don't grow much.
---
What vegetables can be planted in October?
---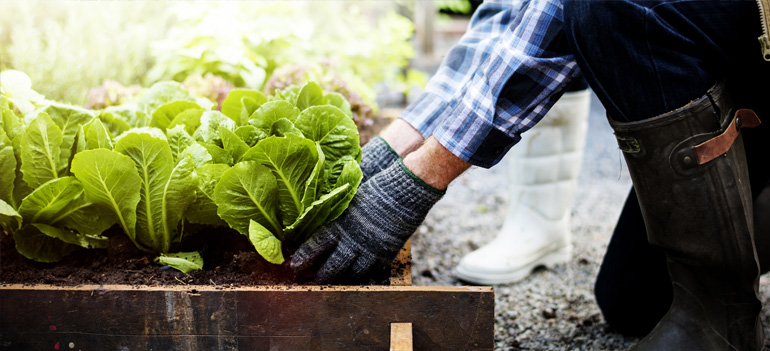 You might think there aren't any vegetables to plant in October, but you are wrong! Plenty of vegetables are perfect for growing in October, but you have to be prepared for the first frost and protect any outdoor crops with tents, fleeces, cloches and cold frames.
Here is our list of the top 5 vegetables to plant in October.
Garlic
Garlic is among the best vegetables to plant in October as it is easy to grow and can be used in many ways. Growing garlic requires a sunny, well-drained location. The bulb should be broken into individual cloves and then planted in the soil.
Broad beans
Broad beans are easy to sow direct into the ground. Broad beans are one of the best vegetables to plant in October if you want a head start on next year's harvest. Choose a hardy variety and protect young plants with fleece or cloches during cold spells.
Winter lettuce
Winter lettuce can be sown in shallow rows from August to November in an unheated greenhouse, in mild areas under cloches, or in a cold frame. You can choose cultivars such as 'Winter Density', 'Rouge d'Hiver', or 'Winter Crop'.
Winter-hardy peas
Peas are compact, prolific and easy to grow, making them an excellent choice for our list of vegetables to plant in October. Early maturity is the main advantage of sowing peas in October instead of spring. Also, choosing this season will give the plant enough time to form a strong root system, resulting in better yields. If you want autumn sowing to be successful, you should use hardy varieties and avoid waterlogging. To protect emerging plants from frost and snow, cover them with cloches.
Japanese onions
October is a perfect time to plant autumn-planting onions (aka Japanese onions). They are low-maintenance plants you can leave on their own. They are tough enough to withstand the winter but keep an eye on them, and if the weather changes, cover them with fleece.
---
Can I prune in October?
---
October is the ideal time for pruning many deciduous trees and hardy shrubs. Much of their foliage is still holding tight, which will help you see which branches and stems to remove. Doing this gardening task in October will give the cuts time to heal and dry before winter sets in, reducing the risk of diseases.
Need help with October's gardening chores?
Enter your postcode to view our rates and availability in your area.