An initiative of The Society for Protection of Ancient Buildings (SPAB) started 14 years ago, National Maintenance Week is a drive to raise awareness among owners of all kinds of buildings, not just ancient and period homes, about the importance of regular care and prevention of any damage that time and weather can cause.
With some easy-to-follow pointers on what to look for when checking the external condition of your property before the first winter frosts, you can make your home safer, reduce energy bills, improve the efficiency and extend the lifespan of the building's components.
Are you willing to prepare your home for the winter?

The need to "stave off decay by daily care, to prop a perilous wall or mend a leaky roof" is what SPAB's founder William Morris pointed as the best way to preserve and conserve an old building almost 140 years ago and you'd be surprised how much his advice is still valid and practical today for your:
Garden and deck
Gutters and roof
Windows and doors
How to prepare a house for winter?
Inspect the roof for problems. Look for loose tiles, slates, and deteriorated flashing around chimneys, skylights, and vent pipes.
Seal joints where water could penetrate. Use roofing cement and a caulking gun.
Make sure the chimney is clear of nests.
Trim overgrown branches away from the house and electrical wires. Iced-over or wind-swept branches can cause power cuts and cause property damage.
Look for open mortar joints in fire brick of the fireplace. If there are any, have them repaired immediately.
Clean gutters of any leaves, bark, and debris. Look for nests of birds or other animals.
Check if gutter junctions are watertight. Watch them in rainy conditions.
Have gutters re-fixed. Prevent them from sloping the wrong way or running off water onto the wall.
Look for blocked downpipes. In rainy conditions you can see if there are leakages from joints and in dry weather you can look around the downpipe for stained brickwork.
Remove plants from behind downpipes. Cut back or remove vegetation altogether.
Make sure downpipes extend away from the house by at least 1.5m. This is necessary to prevent flooding of the foundation and water damage from snow-melt.
Check both the gutters and downpipes for proper fastening. Re-secure if loose or sagging. The excess weight of snow and ice and can pull fascias and the entire guttering system off the house.
Keep gullies at ground level clear and have them cleaned if necessary.
Check the condition of ground level drains around a building. Clean any blockages from dead leaves, debris, or weeds.
Shut off any exterior faucets.
Prevent pipe bursts. Drain water from outdoor pipes, valves, and sprinkler heads no later than the end of October.
Cover patio furniture. Consider moving inside statues and other garden ornaments that may suffer damage in frosty weather.
Clean the boards of wooden decks. Remove all dirt, weeds, dead leaves and pine needles from the crevices to prevent mould and mildew growth.
Give your deck a fresh coat of sealer if necessary.
Check for drafts around windows and doors on a windy day. You can use an incense stick for this – if the smoke trail becomes anything other than vertical, you have an air leak. Look for air leaks at the edges where the window is hinged, slides, or meets another unit.
Inspect wooden window frames for signs of rot or decay. Repair or replace to maintain structural integrity.
Examine windows for cracks, broken glass, or gaps. Repair or replace, if needed.
Seal drafty windows. Caulk the cracks and cover your windows in a thin plastic film, which you can tape down with waterproof double-sided tape. Heat the edges with a hair dryer. Press the protective layer into place. Install weatherstripping on any leaking doors.
Pad your pipes. A small frozen pipe can cause serious household damage if it bursts due to rapid freezing and thawing. The best way to stop this from happening is to cover exposed pipes in unheated areas (basement, attic, crawl space, etc.) with their own foam sleeve, called lagging. Make sure you cover all exposed parts, including bents and joints.
Insulate exterior outlets and switch plates. Use inexpensive foam sealing gasket.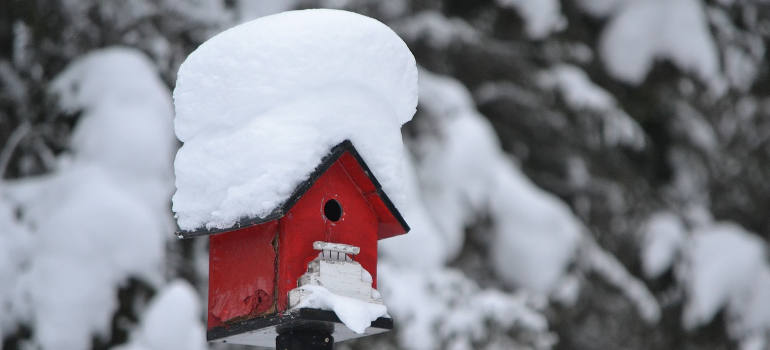 When going away
If you are leaving for a couple of days, set the central heating system to run continuously and maintain a constant low temperature (about 5ºC). You can also open your loft hatch fully to keep the roof space above freezing point.
If you are going to be away for more than a few days and plan on turning the heating off, make sure you drain the hot and cold water system. If the central heating system has been treated with anti-freeze, you won't need to drain it as well.
Remember to stay safe!
Don't undertake routine maintenance work at high level on your own and with inadequate equipment. Always carry out your inspections accompanied and with suitable equipment. Should you have any doubts, always seek professional advice and assistance.
Remember to wear protective gloves, goggles and a hard hat when necessary.
Carry out your routine maintenance safely and responsibly.
Every year, it pays off to make sure your house is ready for winter.The cost of regular maintenance will more than repay itself. If you're considering selling, a well-maintained building will almost always retain maximum value and regular small investments in maintenance minimise the need for (or the scale and price of) repairs.
Having the gutters and drains regularly cleaned, for example, can be much cheaper and less inconvenient than having to cope with the consequence of years of neglect such as water damage, structural damage, and outbreak of dry rot in the timbers of your roof.
Need a Gardener?
Enter your postcode to view our rates and availability in your area.