7

min read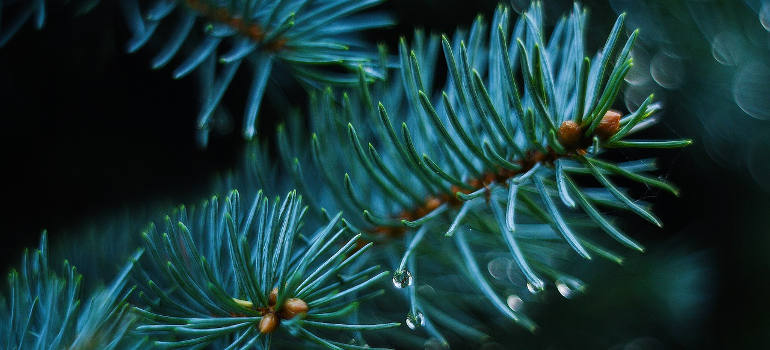 When it comes to Christmas, it's all about traditions and family time. It goes without saying that the number one Christmas tradition is to decorate the Christmas tree. However, picking up the perfect tree can be quite a hassle. Here are some handy tips for first-time buyers of real Christmas trees:
---
When Should You Buy a Real Christmas Tree?
---
The perfect time to buy your Christmas tree is the first or second weekend of December. You might think that this is too early, but this way you will be able to pick and choose at your will, ensuring yourself a nice fresh tree and avoiding the last-minute competition when choice is not so abundant. If you wait until the week before Christmas, your will have to choose between trees that have already started to lose their needles. Fresh-cut Christmas trees can last up to six weeks if you take proper care of them and keep them hydrated throughout the holidays.
You can find where to buy a real Christmas tree if you use the British Christmas Tree Growers Association (BCTGA) locator.
Another option is to buy your Christmas tree online. Thousands of families do it since it doesn't require knowledge on how to pick a real Christmas tree and most companies offer convenient service packs.
---
What to Do Before You Pick a Real Christmas Tree
---
Make sure you measure the ceiling height of the room where you intend to display the Christmas tree. Keep in mind that the tree should be at least 1 meter shorter that the ceiling height because you have to accommodate the tree stand and the topper.
Measure the width of the room because sometimes a tree may fit the height of a room but be too wide and fill half of the empty space inside.
Don't forget to measure the opening of your tree stand. And don't rely on your eyes, use a measuring tape to avoid any mistakes.
---
What Type of Real Christmas Tree to Pick
---
Christmas tree farms and lots offer different types of real Christmas trees to choose from and they even allow you to pick between pre-cut trees or chop your own. To narrow down the choice, here are the some of the best varieties of Xmas trees that boast the best colour, shape and retention among all Christmas tree types:
Balsam firs have a dark green colour and flexible branches. This can be considered a con if you have heavier ornaments. However, its shape and the ability to hold its needles compensate for that.
The Douglas fir is your tree if you want that perfect pyramid shape. When it comes to Christmas tree selection tips, pick a Douglas fir that has blue to dark-green needles.
Noble firs are perfect for heavy ornaments. Their branches are well-spaced and sturdy, and the needles tend to curve upwards.
Scotch pines are the most common Christmas trees. They have stiff branches and dark green needles. Scotch pines can hold their needles for up to four weeks and offer ample space for ornaments.
White pines are perfect for people with allergies because they have little or no fragrance at all. They have blue-green needles that remain on the tree throughout the whole holiday season.
---
What to Look for When You Pick a Christmas Tree
---
You can get confused when it comes to how to pick a real Christmas tree because sometimes a tree can look perfect but it loses its needles too fast or won't stand straight under the weight of the decorations. Here are some Christmas tree selection tips:
Look for a tree that has a vibrant, bright colour. This means that is has been cut recently. You can ask the retailer if they deliver the trees at the beginning of the season or have several shipments throughout. This way you can determine when the tree was cut and how fresh it is.
When you've selected a tree that looks good pick it up and shake it. This way you can test its needle retention. If it doesn't shed a lot of needles, you can check the outer branches. Make sure that they aren't brittle and won't snap easily. If a tree loses its needles easily and the branches break easily, it means that it's too dry.
Don't forget to inspect for insects and pests because both fresh-cut and potted Christmas trees offer shelter to many types of bugs. You don't want to call pest control right before the holidays, right?
When you pick a real Christmas tree, you should always check if the base of the tree is straight. The maximum width of the base should be around 20 cm, or in other words – it should fit in your hand.
If you intend to store the Christmas tree before displaying it, you should keep it in an unheated room or garage. It has to be safe from wind and freezing temperatures.
---
How to Take a Real Christmas Tree Home
---
You've probably seen tons of films and cartoons where a family picks a Christmas tree, ties it to the roof of the car and they all go home happy. In reality, this is wrong and a lot of people don't know it. If you do the same thing, your tree will be dried out by the winds generated from the highway speed. It's better to keep the tree inside of the car, covered in a net or blanket.
If you've followed the tips on how to pick a real Christmas tree and you've made your decision, the tree lot helpers will cut the stump of the tree for you and help you fit the tree in your vehicle. They offer delivery services most of the time if it can't fit in your car.
---
Christmas Tree Care Tips
---
You have to know how to care for a real Christmas tree if you want it to keep its needles and aroma throughout the holidays.
Place the tree in water as soon as you get home. Make sure that the surface of the cut doesn't get dirty or bruised.
Don't trim the sides of the trunk just to fit it into a smaller tree stand. This will harm the tree and prevent it from absorbing water properly.
Check the amount of water daily. It doesn't matter if you use cold or warm water because its temperature doesn't affect the tree's health. However, don't use hot water.
When you care for a real Christmas tree, you should keep it away from lights that emit high heat or heaters and fireplaces. This will dry it out and poses a fire hazard.
Pets and Christmas trees do not always go hand in hand. Especially kitties! To ensure a safe and sound holiday for both your cat and tree, please check these pet safety tips from Chewy.com!
Don't throw your Christmas tree once the holidays are over. You should help protect the environment and recycle it. Check if there is a recycling centre in your area or bring it to the closest zoo.
Follow all of the above tips on how to select a Christmas tree and how to care for it and you will have a perfect Christmas.
Check out our 'Winter garden' collection here:

How to Add Colour to Your Winter Garden
How to Prepare a House for Winter
How to Decorate a Garden for Christmas
12 Popular Christmas Plants
Replant, Reuse, Recycle – 3 Responsible Ways to Dispose of Your Christmas Tree
How to Save Your Garden This Winter
10 Blooming Flowers for your Winter Garden
Feel the Holiday Spirit With a Real Christmas Tree by Fantastic Gardeners
Enter your postcode to view our rates and availability in your area.