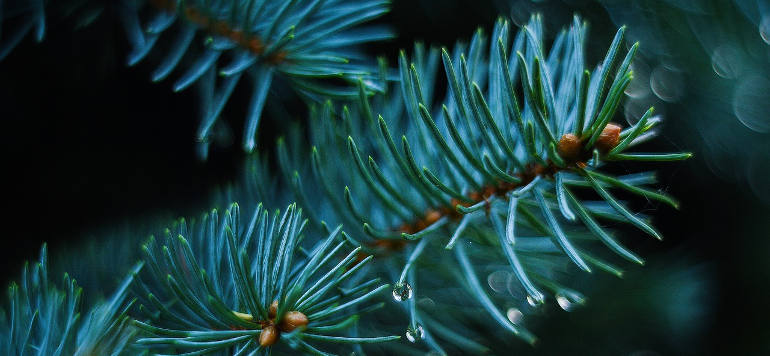 Ah, it's the most wonderful time of the year. Yes, we know it's January. And, no, this is not an old post. Holidays are not coming, they are over. Finally. Now's the time to queue at shopping centres trying to cash in the reindeer cushions, renew your gym membership, and roll your eyes at all the "new year, new me" posts flooding your feed. Magic!
And while you're going through articles on how to blast away your holiday bulge, take some time to see how in addition to making positive changes to yourself, you can also make a positive change for the environment as well by simply disposing of your Christmas tree in a responsible way.
Note: Six to eight million real trees are bought by Britons for the holiday season and considering the environmental and economic cost of flytipped trees, replanting or recycling is an efficient way of protecting the environment and diverting rubbish from landfills.
Saving one tree will not change the world, but surely for that one tree, the world will change forever.
Wait, that was about dogs. Still, it holds true for trees, too. And dogs are always cool anyway. The point is, if you've bought a living tree this holiday season, you're already doing a lot.
An evergreen with intact root system will not only keep its good looks all through the holiday season but it can be replanted after it has served its festive functions and make a great addition to a large garden, even if no longer glammed up with baubles, seizure-inducing twinkle lights, and finery of all sorts.
Maybe then referring to it as the Christmas tree would no longer be suitable and you'd have to actually learn its name but these small inconveniences are nothing compared to the benefits of replanting the Christmas tree:
It can act as a windbreak;
It provides summer shade;
Trees always increase the real estate value of a property;
They also help you deal with noise pollution – trees have almost the same effect as stone walls in muffling urban noise.
And let's not forget the obvious ones, such as trees produce oxygen, absorb carbon dioxide and clean the air and soil.
Choose the best place for your replanted Christmas tree
If you have enough space in your garden, choose a spot for the Christmas tree which is not exposed to strong winds but open to sunlight. As to the soil – it is ideal that you have loose, non-clay soil to allow for proper drainage. High-alkaline soil is not recommended. The plot needs to be cleared of any weeds, grass or brush. These and other factors heavily influence the choice of what Christmas tree to buy.
How to replant your Christmas tree
Yes, a cut off tree can be replanted and it can grow again. For a successful transplant, it is ideal that you've kept the tree inside for no more than 10 days, away from heat sources such as fireplaces or radiators and you've provided enough moisture to the earth ball.
Acclimate the tree.Before replanting the tree, give it a few days to re-enter dormancy by keeping it in a cool sheltered area outside, like a garage or a shed.
Dig the planting hole. It should be twice at least twice (five times is best) wider than the root ball. Choose a mild day to plant the tree when the ground is not frozen.
Remove the burlapfrom the root ball and all other coverings.
Place the tree into the hole, backfill with the excavated soil and tamp gently every layer.
Cover the hole with several inches of mulch.
Water deeply. Don't fertilise yet – wait until spring.
Protect the tree with a screen. You can use old pallets and draperies.
Your Christmas tree could be a lion's new toy or an elephant's toothbrush
If you don't have the time, space, or confidence to plant your live tree in your garden, you can still use it to a better purpose than just leaving it to be collected with your other waste. Drop it off at your local zoo instead so it can be planted in some of the animal enclosures. Zoos also gladly accept cut trees – they can be used as decorations in aviaries, like the snow owl enclosure.
Trees without roots are favourite toys to lions, tigers, and snow leopards. According to the Linton Zoological Gardens' director Kim Simmons Christmas trees contain catmint, causing euphoria and entailing hours of play. Zuri the lion, loves playing with his trees, chewing on it, ripping the branches and scratching his back. Apparently, christmas trees have similar effect as your typical kitty playing with a catnip toy mouse. Make a lion happy and drive to your local zoo!
And it's not just fun and games – Christmas trees turned out to be one tasty treat for the elephants! They can eat up to three trees a day and use them to clean their teeth.
Make sure you've removed all decorations from the tree as they could pose a threat to the animals and contact your local zoo before dropping off a discarded tree. You can find your nearest zoo here.
Recycle your Christmas tree
Cut trees can still serve nature. Prop up your cut tree in your garden and use it as a bird feeder – attach strings of berries, popcorn, and chopped fruit in bags. Cut off evergreen branches can be used as coverings to protect perennial beds and nursery rows from frost and snowmelt, and the trunk can be sawed into logs and used in your fireplace. And while undressing the tree isn't as saucy as it sounds, all needles that shed in the process can be used for fragrant sachets and potpourri.
If you can't compost your tree yourself, your local council can help with the Christmas tree recycling. Trees dropped off at special collection points or picked up during waste collection day – councils usually carry out free Christmas trees collection during the first two weeks of January – can be turned into compost or weed suppressant by special chipping machines.
The finished product from Christmas trees composting locations is used to improve farmland around London, reducing the need for artificial fertiliser. Ask your local council for information on kerbside collection dates, as well as the nearest Christmas tree recycling site. You can find the nearest Christmas tree collection point in your area here.
Get Ready for the Holidays with a Real Christmas Tree by Fantastic Gardeners
Enter your postcode to view our rates and availability in your area.