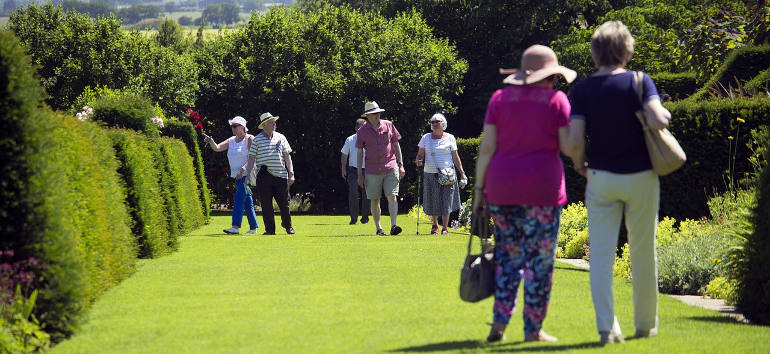 Gardeners and flower lovers had the chance to enjoy another flower show this year. Thanks to the Royal Horticulture Society, we could admire gorgeous blooms and learn a few tricks on how to step up our green thumb game at the Wisley Flower Show.
Mary Berry Opened the Wisley Flower Show
The event took place from 8-13 September, at the RHS Garden Wisley and welcomed hundreds of guests. Straight from the start of the show, visitors had the chance to watch Nation's favourite baker Mary Berry take a large slice from a giant Victorian sponge cake, made entirely of flowers. This work of art was created by the famous floral decorator Simon Lycett and guests could take a close look at it during the six days of the Wisley Flower Show.
Rare and Popular Flower Species
It won't be a flower show without displays, so the organisers of the Wisley Flower Show made sure there were enough. 50 nurseries, including 28 RHS Chelsea Flower Show winners, offered a wide variety of both rare and popular flower species on display and for sale. Guests of the Wisley Flower show had the chance to see the "Moshoeshoe", a new variety of Tulbaghia (commonly known as society garlic); new varieties of gladioli, and rare beauties, like "Dainty Bess".
Another part of the Wisley Flower Show 2015 was the Expert Zone. Visitors had the chance to listen to lectures from gardening experts, learn new things, and ask questions.
National Dahlia Society Annual Show
There was also a show within the show. During the Wisley Flower Show, the National Dahlia Society Annual Show took place. The event was held between 8 – 11 September, offering a selection of lavish dahlia blooms for guests to admire. More than 100 exhibitors had the chance to compete for top prizes in all classes. The People's Dahlia Competition also took place on 12-13 September. Participants could enter a single stem of any type of dahlia they had grown themselves for a chance to be awarded a prize by the expert judging panel each day.
The Wisley Flower Show was also a host to the Surrey NAFAS Floral Display. It was held from 8-13 September and showcased the striking art collections under the theme "Roll up! Roll up!" Visitors could relish the floral art at the Glasshouse each day from 10am-5pm. There were even prizes for the categories Best in Show, Best Use of Colour, and the Judges Choice.
Surrey Sculpture Society Trail
Perhaps one of the most interesting things was the Surrey Sculpture Society Trail. Guests of the Wisley Flower Show had the chance to see some enchanting summer borders, grasses and intriguing sculptures. These works of art were created from up-and-coming artists and received lots of praises.