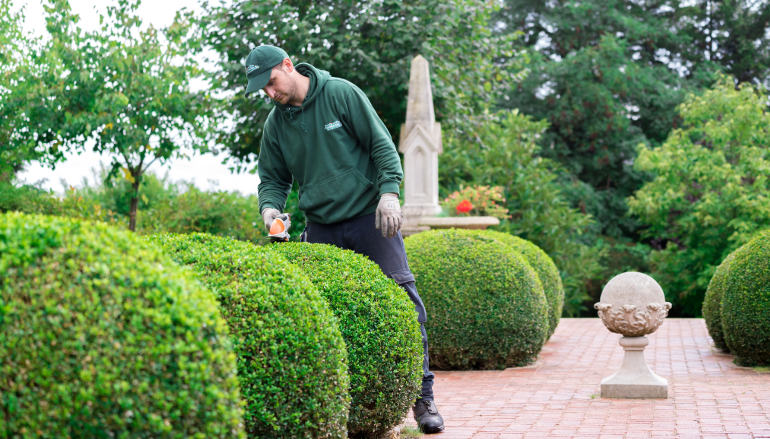 In 2016 we saw the rise of many trends that we believe changed gardening for the better. A year characterised by an almost nostalgic longing for a rustic appearance, it pushed aside the colossal and over-the-top gardens in favour of more practical, cosy, and colour-rich spaces.
This global movement had its inevitable impact on the UK scene as well, where the perfect geometrical shapes and overall formal style were replaced almost overnight by charming bedding plants, whitewashed garden fences, and indoor edible gardens. Yes, it was a great year to be a gardener – so much so that everybody thought they've seen everything there is to see.
But as the imaginary January snow starts thawing, it reveals even bolder ideas that have already conquered the imagination of many a gardener worldwide. Will 2017 continue the informal approach established by the previous year, or will it head in a different direction? Find out by looking at 2017's top 10 UK best garden trends that may very well challenge the current status quo in gardening.
Adapt your plants to the unpredictable English weather
---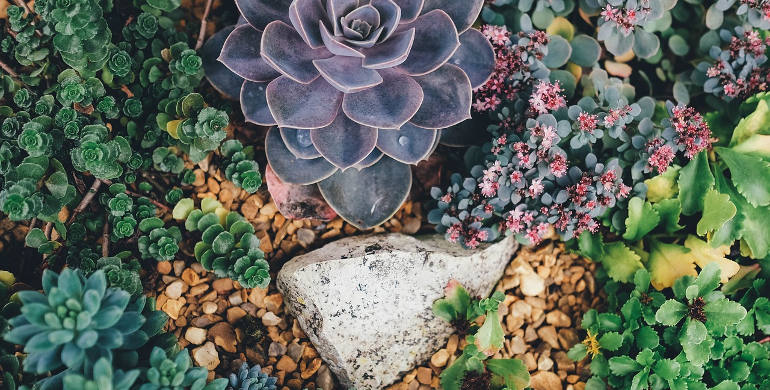 The idea of weatherproofing your garden is anything but new. Especially in the UK, it has long become a necessity to own a decent pair of waterproof clothes, a sturdy shed, and tools with anti-corrosive coating if you wish to have the slightest chance of saving your garden from the constant floods… Or at least that was the case until 2016 when all gardeners in England had to cope with the driest year on record, which had a significant negative impact on the crop output.
Enter the drought-resistant garden plants
This lead to the logical introduction of plants that can endure drought for long periods of time, many of which became a permanent addition to homeowners' personal gardens. As a result, 2017 is officially the year of drought-resistant plants, starting with the Echinocactus grusoni – a slow-growing Mexican cactus with golden spines and small yellow flowers during summertime.
Other species you're likely to encounter in 2017
Similar trending appears to be the bluish-green leaves of Cape Blanco, which is widely used as a groundcover and gives gardens a more "otherworldly" feel. The violets Lavandula multifida, on the other hand, are attractive Mediterranean shrubs that bloom from spring to late fall. Other popular plant choices include Sedum spurium, Sempervivum, Agastache rugosa, and more.
---
Spend a relaxing day out in your trendy high-tech outdoor kitchen
---
Approximately 10 years ago, this trend would have been met with a raised brow, followed by the question "Why don't you just use the kitchen in your home?" But today, technology has finally caught up with the trends to create just as pleasant cooking experience under the starry skies.
Need a professional gardener?
Enter your postcode to view our rates and availability in your area.
Are outdoor kitchens as good as the real deal?
Built around the idea of flexibility, most outdoor kitchens come with powerful hobs and grills to meet all modern demands, the latter ranging from 30-inch-wide grills with a couple of burners up to twelve 42,000 BTU burners with adjustable temperature and neat attachments that allow the cooking of pancakes, cookies, and other foods you would not otherwise associate with a grill.
Designs, designs everywhere
This variety is especially evident in the outdoor kitchen designs, which can range from a classic wooden ceiling and furniture made from salvaged materials to stainless steel appliances with a contemporary design that successfully blends marble and stone together. Depending on the budget, these al fresco kitchens can also feature sinks, weatherproof cabinets, stylish lighting, space heating, refrigeration, Hi-Fi sound systems, TVs, and even swimming pools!
---
Bedazzle your guests with the latest trends in outdoor furniture
---
While it has become common sense to weatherproof your home against the frivolous English weather, a recent study found out that many people in the UK (over 70%, in fact) are more than aptly prepared to meet the sunshine as well. And we are not just talking about umbrellas – from pastel blue and fresh yellow to natural brown and white, this year's garden furnishings introduce a vibrant and contrasting palette of colours that will take your holiday relaxation to the next level.
Say "Hello" to convertible outdoor furniture
Let's start with the new kid on the block – convertible outdoor furniture. A popular pick for most homeowners appears to be the convertible bench, which can be transformed into a picnic table in a matter of seconds. Flat pack furniture fits well here with sleek designs and easy-to-use instructions. A similar trend can be observed with the widespread convertible tables that can act as both coffee and BBQ tables. Stylish, compact, multifunctional and affordable, the convertible outdoor furnishings of today have every right to be as popular as they are now.
A brief look at other trending furnishings for 2017
Furnishings made from recyclable materials, especially plywood furniture, garner more and more attention in the UK. The reasons – they perfectly emulate the appearance and sturdiness of the desired material, minus the high cost and finicky maintenance. Garden bar stools and tables from rust-proof aluminium are now the new standard, while fire pit tables are just what you need to give your garden a sprightly ambience or to toast a few kebabs on the side.
---
Create a tiny ecosystem in your own home with miniature gardening
---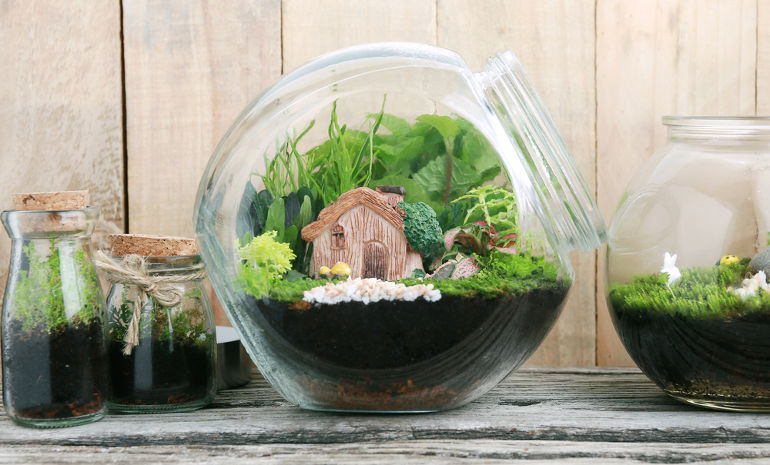 Always dreamed of having a miniature carbon copy of your life-sized garden? Well, you're in luck because 2017 has ushered the age of miniature gardening! These small slices of heaven are usually comprised of tiny trees, shrubs, and flowers that are engineered to grow just 1 inch per year, with large plant containers usually serving as the base or, in this case, the Earth.
So, what can you actually plant there?
The variety of species you can plant in your "fairyland" is almost endless, with sage, rosemary, African violets, and begonias being just a few of the options available. What's more, there are many online stores that also sell downscaled accessories, such as cottage houses, patios, gardening furniture, ponds, fake plants… just name it and you'll most probably find it on sale.
Nothing lasts forever…
While incredibly easy to maintain, this tiny ecosystem will not last forever – the vegetation will eventually grow to normal size and you will have to transplant the plants into individual pots, so make sure to take lots of pictures to show your friends in case you bought quick-growing minis.
---
Keep the pests at bay with an arsenal of natural herbicides
---
Keeping weeds in check has always been a rather exhaustive task, and careful positioning of your crops and mulch can only get you so far. But before you reach out for your annual supply of herbicides, we urge you to try out this year's trending recipes to kill weeds the eco-friendly way!
Rediscover boiling water and the flame-weeder tool
Our first stop is boiling water. That's right – just pour the hot liquid over the leaves and stems of the invaders and watch them perish shortly after. Alternatively, you can get yourself a flame-weeder tool that will scorch the leaves of weeds and cause them to instantly wilt. Just make sure to use extreme caution when treating weeds near dry leaves or branches as you definitely don't want to bring your garden (and possibly your neighbourhood) down with them.
Tap into the magical powers of table salt and vinegar
Sodium chloride (that's educated talk for common table salt) is another effective herbicide you can try out. Just dissolve 1 part of salt in 8 parts of hot water, add a bit of liquid soap, and thoroughly spray all weeds with the mixture, but avoid drenching the soil at all costs or you'll render it useless.
Alternatively, you can swap the salt for some safer, weed-slaying vinegar. There are many other recipes you can find on the Internet, so go out there and try them all out!
---
Make the most of your limited space with vertical gardening
---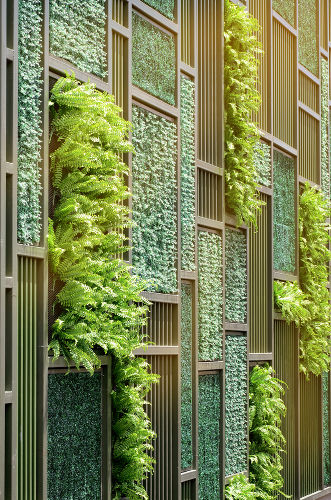 It's 2017, so it's time to go vertical. There is a reason why this gardening method has been at the centre of attention for many gardening discussions – it's quite "compact", making the vertical gardening a great solution for the tight urban apartments and small yards in the UK. Plus, if done right, growing vegetables, herbs, or flowers in this fashion is bound to impress your visitors.
A couple of vertical ideas to draw inspiration from
The good news is that you can grow your plants in practically anything. For instance inside empty bottles, which you can then carefully hang on an empty wall to create a jungle-esque setting. Have some wooden planks lying around your home? Then use your DIY skills to build wooden pyramids and plant your flowers on each of their "floors". Just replaced your PVC pipes? Don't throw them away just yet and instead drill a few holes across their surface, have them standing upright, plant some lettuce or strawberries, and watch your garden take shape.
---
Stay healthy with a fresh selection of nutritious foods
---
Looking at the foods that flooded the market in 2016, it's clear that it was a year of intense culinary experimentation. So much so that we've started eating vegetable purées and yoghurts, replaced potatoes with eggplants, rediscovered the benefits of turmeric, and were not afraid to have cauliflower rice for dinner. And this year round, things just keep getting better (or worse, depending on who you ask) in the light eating department, starting with ugly produce.
(Bizarre) Exciting products that 2017 will bring to the table
Yes, you've read this right – 2017 is shaping up to be the year of deformed apples, carrots, tomatoes, and so forth. This is a good thing because it will fight the food waste problem we've had for a while now and will also make our food taste better, as there will be a lesser chance of it being genetically tampered. Seaweed, umami-flavoured chips will also be trendy in the upcoming months, as will jackfruit, coconut gluten-free flour, and edible vegetarian burgers.
---
Gain extra income by joining the collaborative consumption movement
---
Allegedly created by the folks behind eBay, the collaborative consumption movement is a trend that has been recently gaining quite a bit of traction in the UK. In a nutshell, it is a bartering system that allows a person to rent a given item or service to another person in exchange for money. Okay, but why did it become so popular with gardeners from all parts of the globe?
The collaborative consumption effect on gardening
Well, it's simple – gardening tools require a fair bit of maintenance and not everybody can afford them. Thus, professional gardeners found a way to earn money on the side by lending their lawn mowers, chainsaws, pressure washers, rotovators, and other equipment at affordable hourly rates to other gardeners, who then get the job done and return the items back in mint condition. So, if you happen to have some gardening inventory lying around your shed, we suggest dusting it up and giving this trend a try – you might just make a small fortune!
---
Your favourite gardening shows will be making a eeturn
---
This year round, you can expect your TV to be held hostage by a new wave of gardening shows – a whopping 36 of them, to be exact. But with so many of them simply riding the trend, which ones will be actually worth watching? Well, a good place to start will definitely be "The Avant Gardener" show. Hosted by Alan Gardner, it presents gardeners with unique ideas to encourage "out of the box" thinking and, more importantly, help them make their neighbours jealous.
So many TV shows, so little time…
"Love Your Garden" is another show that you should definitely keep an eye on, and so is the 2017 Shed of the Year competition, where the winner grabs a £1000 first prize and has their shed featured on TV come next summer. If nothing from the list we've mentioned so far sparks your interest, then go for "Garden Rescue". In each episode, Charlie Dimmock and the Rich brothers will come up with garden ideas, but it will be up to the owner to make the final call.
"Gardeners' World" will also make a spectacular return to a fully revamped format and a set of fresh topics, all of which will be presented by Monty Don as is the tradition. Currently, the show is estimated to have over two and a half million viewers, making it one of the most (if not THE most) influential gardening shows that were ever shown on the big screen.
---
Host a refreshing cocktail party with some botanically-infused drinks
---
Mojito cocktails are out, botanical cocktails are in. Well, that is a bit of an overstatement, but the fact is that 2017 will continue the plant water trend that was so popular back in 2016. It all started with coconut water, then moved on to maple, birch, aloe… and now apparently to the lotus flower, artichoke, prickly pear, and barley. But why do people insist on drinking plants so much?
The numerous benefits of botanical drinks
It turns out that the liquid extracts of these plants act as powerful antioxidants that help the body fight potential damage from free radicals, which are produced when we eat, breathe, or work out at the gym. Some of these juices can also have a stimulating or a calming effect, while others still have been known to improve digestion, strengthen the immune system, or reduce stress.
In other words, don't be surprised the next time you see a cucumber- or sprout-flavoured water in your local supermarket – for all you know, drinking it may actually make you feel better.
Need a gardener?
Enter your postcode to view our rates and availability in your area.