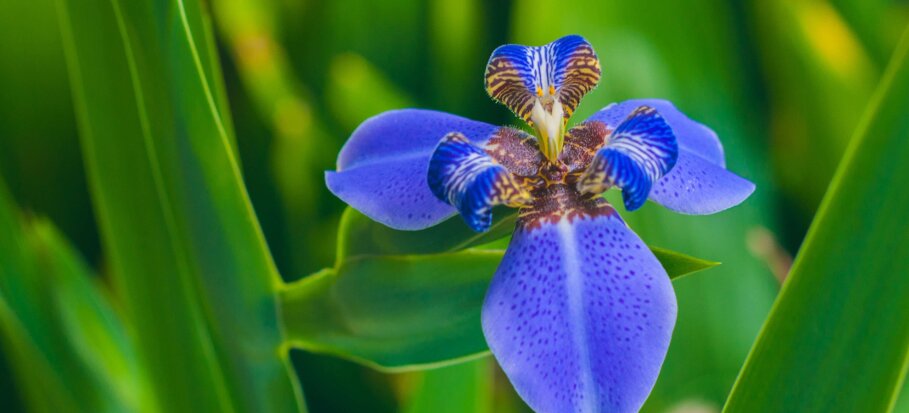 Are you dreaming of an exotic garden full of flowers with hard to pronounce names that will awe your guests? An understandable dream. But most tropical green life are not meant to grow in the weather conditions that the UK offers.
However, below we have prepared a list of tropical plants that can live in the UK and thrive successfully. So keep reading to find out which examples can add a tropical touch to your outdoor space.

Ginger Lily (Hedychium aurantiacum)
---
Hedychium aurantiacum is a perennial which has erect stems and fragrant trumpet-shaped flowers. This hardy ginger plant is just one of the many hedychium varieties, which is also known as Ginger Lily.
How to grow Hedychium aurantiacum?
You can easily grow them in pots.
They make the perfect border plant, too.
Store your Ginger Lilies in a greenhouse throughout the winter.
---
Arum lilies (Zantedeschia aethiopica)
---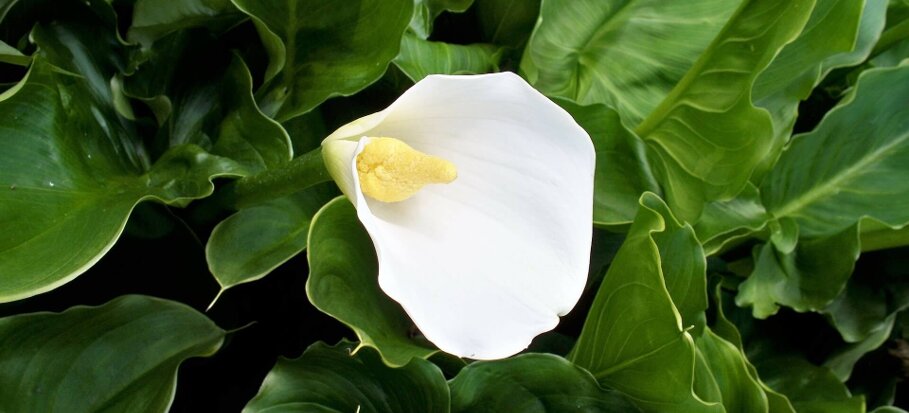 Also known as Calla Lily, this is one of the most elegant unusual plants to grow in your garden. For those of you who are wondering if the calla lily is a perennial or annual plant, we've got the answer. Zantedeschia is a semi-evergreen perennial plant that has funnel-shaped white flowers. Its leaves can reach up to 40 cm in length and its flowers can grow up to 25 cm.
How to care for a Calla Lily indoors?
Keep the soil moist.
Provide this tropical-looking plant with indirect sunlight.
Repot it once a year.
Feed it with a liquid fertiliser every month.
---
Trilliums (Trillium grandiflorum)
---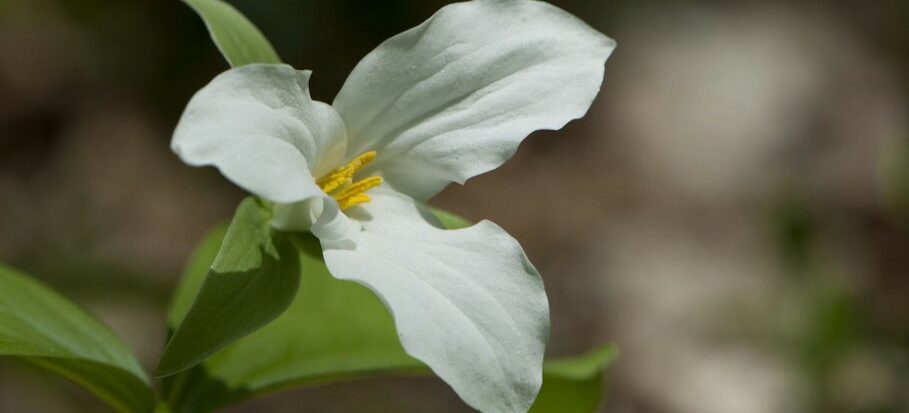 Trilliums are perennial plants that grow in spring. They aren't difficult to care for. But, they aren't the kind of plants that will thrive successfully in pots due to their preference for rich soils.
How to grow Trilliums?
Trilliums prefer moist soil so make sure to keep the plant hydrated.
Be careful not to overwater them, though.
Plant the Trilliums about 10 cm deep into a non-clay soil by the end of summer.
Mulch this plant with some organic matter in spring.
Fertilise Trilliums in Spring as well.
---
Trachycarpus Fortunei
---
Image Source: Wikimedia | Author: harum.koh
Trachycarpus palm varieties are hardy plants you can grow in the UK and add a tropical feel to your garden. Trachycarpus Fortunei is one of the varieties you can admire in your backyard. It's a slow grower and its fan-shaped foliage will accentuate your garden or patio. It won't be a problem to grow your Trachycarpus Fortunei palm tree in pots.
Keep in mind, though, that your tree will be vulnerable to winter frosts. If you are thinking about planting it in your garden, make sure you don't dig too deep around the base of your palm tree.
How to grow Trachycarpus Fortunei?
Hydrate your palm tree but don't overwater it.
The soil it grows in should be well-drained.
Trachycarpus Fortunei needs sunlight exposure but it can also tolerate partial shade.
Place your plant in a wind-protected spot.
You can plant your palm tree at any time, but spring and summer are a good opportunity to do so as it will have enough time to stabilise.
And if you are wondering when should palm trees be pruned, the answer is simple – you'll notice they need it. Get rid of brown leaves to keep your palm tree healthy.
---
Chamaerops humilis
---
Image Source: Wikimedia | Author: tato grasso
Chamaerops humilis is an evergreen dwarf fan palm tree from the Arecaceae family. It's, actually, the perfect palm tree for your patio. Chamaerops humilis is a slow-growing palm that reaches up to 3.5 metres. It can survive cold temperatures of up to -5 degrees Celsius. However, if temperatures go lower then that, bring the palm tree indoors.
How do you care for Chamaerops humilis?
Water it regularly.
Provide the tree with indirect sunlight.
Don't leave it outside if it's colder than -5 degrees Celsius.
What type of soil and feeding does Chamaerops humilis need?
In fact, it can thrive in all kinds of soil. Just make sure it is well-drained and keep it moist and rich.
---
Cordyline australis
---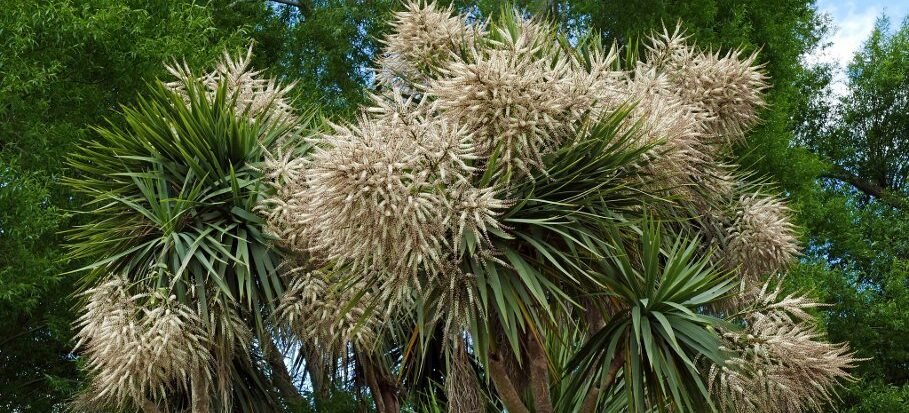 Image Source: Flickr.com | Author: Bernard Spragg
Cordyline australis, also popular as cabbage palm, is an evergreen shrub with long sword-shaped foliage. Are Cordylines frost hardy? Well, not really. Cordylines can survive most winters in the UK with temperatures up to -10 degrees Celsius. Keep in mind, though, that the frost may cause damages to them.
How to grow Cordyline australis?
Cordylines like full sun exposure so make sure you will provide it.
Plant your Cordylines in spring in a sheltered sunny spot.
Water it well during the growing season.
---
Ceanothus (California Lilac)
---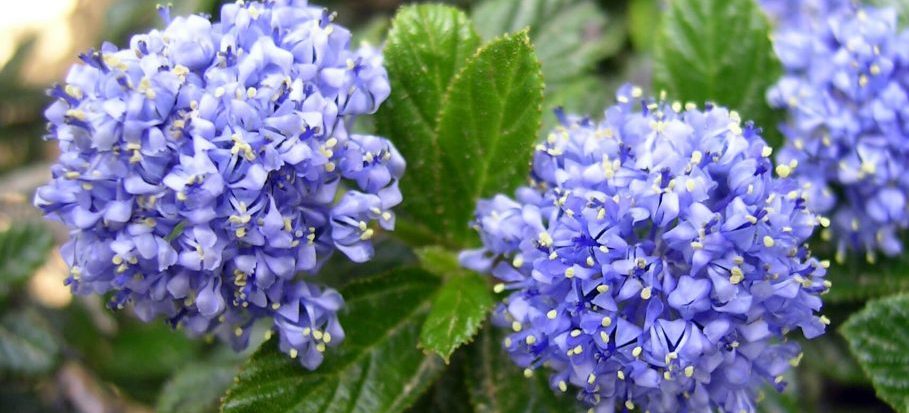 Image Source: Wikimedia | Author: Kousvet
Ceanothus is a low-maintenance evergreen which blooms in the warmer months. It's rather hardy but is still prone to damages due to the cold weather. How tall do ceanothus grow, you may ask. Well, in fact, this tropical-looking plant can reach up to 6 metres in height. It will look great near a fence or a wall as they can stabilise it. And if you are wondering how long a ceanothus lives – their lifespan covers about 15 years.
How to grow Ceanothus?
The Ceanothus plant requires full sunlight exposure.
Keep the soil well-drained and fertilised.
Place it in a wind-protected spot.
---
Bamboo Iris (Iris confusa)
---
Image Source: Wikimedia | Author: Hans Hillewaert
Irises are perennial evergreen plants you won't actually recognise until they bloom. They are also among the most beautiful tropical plants you can grow in the UK. They have long, sword-like foliage. Their delicate flowers bloom during spring – between April and June. Irises come in yellow, white or pale-blue colours.
How to grow Iris confusa?
Remember it prefers full sun or partial shade.
Make sure it grows in well-drained soil.
Water it regularly without overwatering it.
---
Passion Flower (Passiflora)
---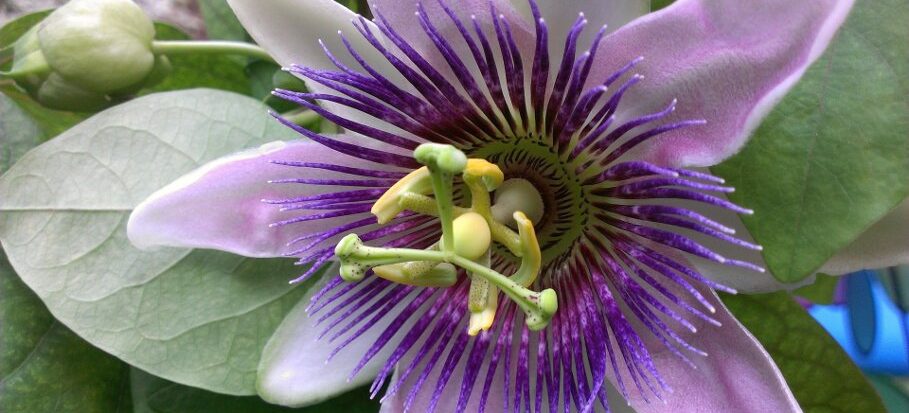 The Passion Flower is a fully hardy plant that is easy to look after. The best time to plant the Passiflora is in Spring or Autumn. It normally blooms in Summer.
How to grow Passion Flower?
Grow your Passion Flower in a well-drained, fertilised soil.
The Passion Flower loves sunlight, so make sure to take it outdoors when the weather warms up.
Water it well during the growing season. The soil shouldn't dry out. However, during winter the Passiflora does not require as much water. Its soil should be rather dry between each watering.
How To Overwinter Passion Flower Outside?
There are many Passion Flower varieties and most are hardy. This ables them to withstand cold UK winters. Some sorts, such as Passion Flower mollissima, for example, can't deal with temperatures lower than 5 degrees Celsius. In that case, they could only be grown in a greenhouse.
---
Bird of Paradise Flower (Strelitzia)
---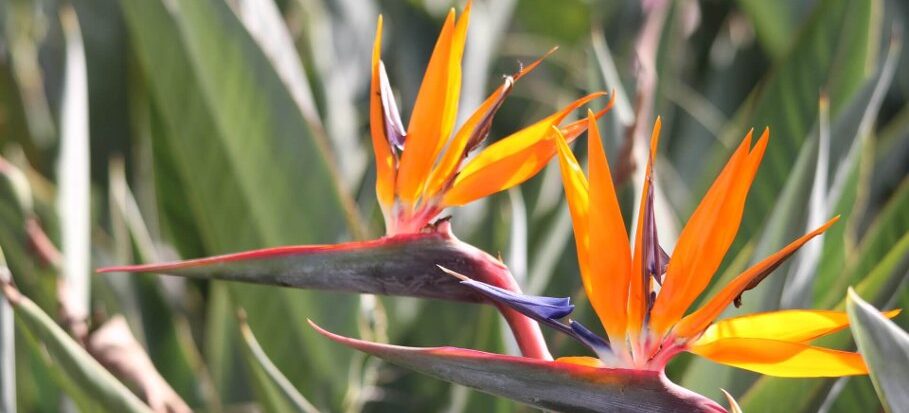 This plant is as gorgeous as its name. It symbolises freedom, success, joy and loyalty in relationships. What's interesting about this colourful flower, is that it doesn't produce any oils and has no scent. Therefore it can't be used for perfume production.
There are five different groups of the Bird of Paradise flower but they are all known as Strelitzia. However, only two of these can thrive successfully inside your home – the orange Bird of Paradise flower (Strelitzia reginae) and the white one (Strelitzia nicolai).
How to grow Strelitzia?
Strelitzia loves direct bright light. However, mid-day sun can burn the leaves so place it in a room, facing west or east, if you grow it indoors.
Keep it hydrated. The soil should be moist so you may have to water it every day in warmer months.
Grow it in a rich and well-drained soil.
Use liquid fertiliser to feed this plant during the growing season.
Keeping in mind this exotic plant loves warmth and sun, you may be wondering if Strelitzia can grow indoors. The answer is "yes". However, it will take up to 3-5 years until the plant is ready to bloom. Also, this is a tall-growing exotic plant which can reach 6 feet in height. Therefore, make sure you position it in a room with tall ceilings.
---
Black-eyed Susan Vine (Thunbergia alata)
---
This is a gorgeous flower that you can let climb your trellis fence or grow in hanging baskets. The Thunbergia flower is a low-maintenance plant which doesn't require much but offers you beautiful flowers all season long.
How do you grow Thunbergia alata?
Position it in a sunny spot.
Make sure to keep its soil moist and well-drained.
It's perfect for growing in hanging containers as well as garden edges.
The Black-Eyed Susan Vine is a plant which grows quite quickly as soon as temperatures go up. This exotic plant can also climb fences so it could be an easy way to accentuate on the fences in your outdoor space.
Tropical plants add an exotic feel to every outdoor space. Therefore, it would be best if you plan ahead what type of plants you'd like to grow in your garden. Some of them prefer full sun exposure, whereas others thrive in shade. Outdoor temperature is also a factor one should consider.
Some exotic plants are illegal to grow in the UK due to various reasons so make sure to check that out at your local council. However, if your choice of tropical plant is approved and legal, then stop wondering. Get your garden back in shape and make your tropical dream come true!
If you are really aiming at making your garden stand out, then you might as well think about what gardening jobs need to be done first. Make a list of the tropical plants you want to grow and get your outdoor space ready.
Hire professional gardeners who will bring their own equipment and even do the planting for you in no time. So with hope to guide you in your choice, we have prepared a list of plants which can add a tropical vibe to your garden.
Need professional gardeners? The experts are just a few clicks away.
Enter your postcode to view our rates and availability in your area.