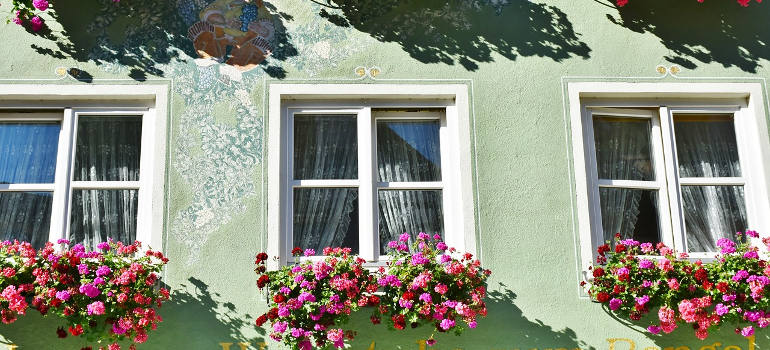 Undeservingly overlooked when it comes to hardscaping, the old window box is a fantastic exterior design feature that can add a unique touch to your home and make heads turn. It really is a thing to consider if the best-looking house on the block is what you're going for. Here's why:
What are the benefits of window boxes?
The humble window boxes make a huge difference to the overall hardscape design. Properly arranged and placed, they are the missing piece to the picture-perfect home puzzle. Still wondering what could be so great about a box. Well, for starters:
Wooden boxes make even the dullest facades brim with life.
Flower window boxes add extra colour, texture and dimension to your home.
They complete the whole exterior design and make your house stand out.
Imagine walking down the street and all you see is houses with green lawns and box bushes. They look boring, don't they? Now imagine the same houses but with colourful miniature gardens. It's a mix of bright blossoms, verdant greens, and vivid blooms, complementing each other and the lush lawn. This is the magic of the window boxes.
Another great benefit of having "window boxes" is that you can hang them anywhere to save space. Just because they have "window" in their name, it doesn't mean that's the only place you can display them. Use wooden window boxes to match the colour of your patio and decorate it with seasonal flowers.
You can also install bespoke window boxes on your fence or on balcony railing. Another great spot is above the garage door or even above your door. It doesn't matter what place you pick, the fantastic window boxes will add a flowery touch to your home.
What happens to window boxes when winter arrives?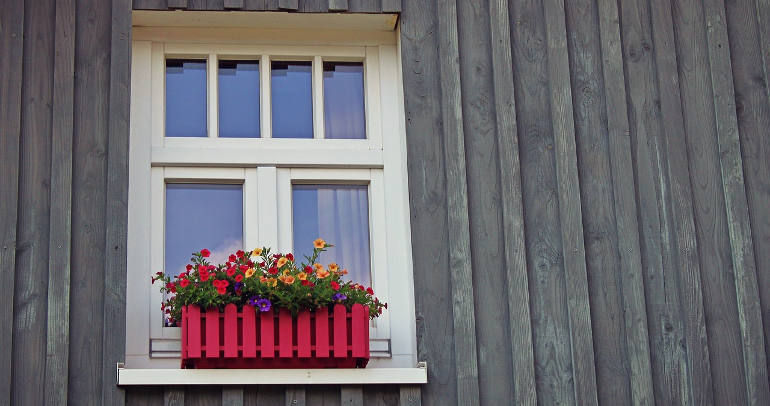 Most people think that window boxes are inconvenient when it comes to four-season weather, especially winter. It's a common misconception that these handy flower boxes on your window will look ugly and empty when it gets cold. Winter can be equally dazzling when you know what to plant. And any other season for that matter.
Plant evergreens, perennials, or annuals that you can change each year.
You can also plant window boxes with greens that bloom in each season – crisp mornings and stellar evenings will set off the vibrant colours.
If you think it's too hard to maintain flowers in window boxes, you can use a simple trick – fake foliage.
Decorate window boxes for holidays. Imagine your own Christmas window box with a snowman, or an Easter window box with eggs hidden among the flowers.
Window boxes are versatile when it comes to the choice of greens and decorations. The golden rule of a thriller (something tall that makes the focal point), a filler (something to add fullness), and a spiller (something to trail over the sides) is open to interpretations that will help you make a colourful statement. And you can always think of ways to use them throughout the year.
Aren't window boxes all the same?
There aren't just one or two types of window boxes. If you decide to use them in your hardscape design and just browse the internet a bit, your head will spin. There are tons of designs of window boxes, each unique and charming. Here are some of the available options:
Metal window boxes – A hollow metal frame or cradle where you place your planters.
Wooden window boxes – Made of different types of wood, as the name suggests, can be carved with different ornament and painted in any colour.
Vinyl window boxes – These aren't that popular, but they are solid and with the right design, they'd be hard to distinguish from wooden ones.
Fibreglass window boxes – Rather different and a little bit harder to maintain, but unique.
Bespoke window boxes – You can always find window box designers and hire them to make the design of your dreams.
Small, big, striped, single coloured, shallow, deep, there are all kinds of window boxes. You just have to find the ones that you like and install them at the desired location. Always consider the weather in your area and whether you'd be able to maintain them. If it rains a lot and you want metal window boxes, make sure they are stainless, or at least have a protective layer.
Don't think too much about it and just include the wonderful window boxes in your exterior plans. What's even better is that Fantastic Gardeners offers window boxes as part of the exterior landscaping services.
For any ideas, requests and other inquiries give us a call at 020 3404 2272. Our friendly staff will be more than happy to help you.
Request your window boxes online through our easy online booking form!
Enter your postcode to view our rates and availability in your area.