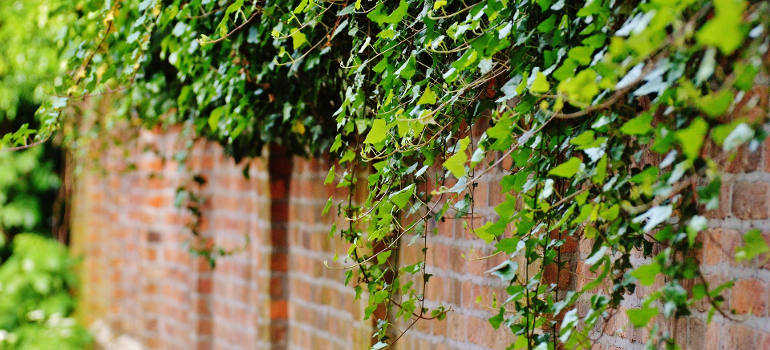 Hedera, which we commonly refer to as English Ivy (pl. Ivies), is a family of around 20 species of evergreen perennial plants. Depending on their surroundings, these woody plants can be both ground creeping or climbing nearby trees, rocks, buildings, and pretty much anything they can lay their stems on.
Given a solid base, the ivy has the ability to crawl up and reach heights of more that 30m. On ground level it rarely exceeds ½ feet in height. As gorgeous as this chef-d'œuvre of nature is, it can still cause mischief around your property if left unattended.
So here's our handy guide on how to get rid of common ivy.
The dark side of common ivy
Here in the UK, English Ivy is native and may not be as invasive as it is in other countries, but it can still exhibit invasive behavior under certain conditions and in specific environments.
In areas with mild temperatures and consistent moisture, it tends to be more invasive. The type of soil also plays a role, with nutrient-rich soils supporting rapid spread. Furthermore, English Ivy's shade tolerance allows it to thrive in areas with limited sunlight, outcompeting other plants. So, how damaging is ivy?
Well, when English Ivy is planted in gardens or near natural habitats, it can escape cultivation and become invasive in adjacent ecosystems. It competes with garden plants for essential resources like sunlight, water, and nutrients, often resulting in the weakening or death of desirable garden species. Also when it climbs trees, its added weight and density can lead to weakened branches, making them more susceptible to diseases and structural damage.
The ivy's dense foliage provides a haven for pests like rodents and insects, thereby attracting unwanted wildlife to your property. Furthermore, contact with Ivy leaves or sap may lead to skin irritations and allergic reactions, especially among individuals sensitive to plants.
Last but not least, you should know that English Ivy supports itself with aerial roots, and when these penetrate cracks or joints in structures, they may cause structural damage.The only good thing is, Ivy's berries can attract wildlife such as birds, bats, butterflies, moths, bees, and wasps, but that only when it's not invasive.
How to identify English ivy
While English Ivy is a beautiful addition to any garden, it's important to differentiate it from other similar plants that may be less welcome. Here's how to identify English Ivy:
Leaves – English Ivy has leaves that are typically grouped in groups of three. Remember the phrase, 'Leaves of three, let it be';
Growth Patterns – Although English Ivy tends to climb, it can also spread in various directions. It's adaptable and can grow as a ground cover or climb surfaces;
Colour – English Ivy may not always be green; it can exhibit reddish or other variations;
Fruits – English Ivy bears distinct white, translucent fruits, which can be a distinguishing feature.
How to kill ivy
Your best bet to completely eradicate invasive ivy involves the use of chemicals and about a month's time for this method to take effect. Before you commence the process, be sure to have the following supplies at hand:
Rubber gardening gloves (£2 – £10)
Garden shears (£5 – £20)
Pruning saw for thicker ivy vines, if any (£10 – £20)
Spray bottle or sprayer (£10 – £20)
Weed killer of your choice (£20 – £30)
Long sleeves, long pants and boots (£5 – £20)
Strong patience (priceless)
Got them all? Good, let's move onto the steps to kill ivy.
Disclaimer: Pregnant women should stay away from the garden after it has been treated with commercial weed killer. Going through your garden in a fast manner should not pose any complication for your pregnancy, because your lungs and placenta will filter out the toxins. Even so, we recommend you have no contact with the fumes as results from different products could prove unpredictable.
Here are the steps to get rid of ground covering ivy:
---
Step 1. Find and mark all the plant's base roots.
Step 2. Leave around 1-2 feet worth of ivy coming from the main roots untreated, for later.
Step 3. Start cutting the ivy in patterns, simultaneously pulling out each section.
Step 4. Pile up everything you've cut to dispose of it after the chemical treatment.
Step 5. Spray the freshly cut vines and remaining leaves (from Step 2) with a weed killer of your choice.
Step 6. Repeat this process every few weeks until the ivy is defeated for good.
Here's how to kill climbing ivy on trees:
---
Step 1. Cut its vines at waist level 3-4 feet above tree trunk base with the garden shears, all around.
Step 2. Leave the ivy that remains on the tree to dry out and die off within a month or so. Do not pull the vines unless you're sure they are dead. Otherwise, you will damage the tree's bark.
Step 3. Remove as much ivy roots as you can around the trunk by hand, leaving a safe zone of at least 3-4 feet radius. This way you can act fast if new ivy vines emerge.
Step 4. For what's left on the ground, apply the same procedure as killing ground creeping ivy.
Dangers of removing ivy from trees – Never try to rip off the ivy from your trees. Ivy sticks to everything it can climb, including trees, so pulling will rip the bark of the tree. A split bark is more susceptible to disease and pests.
Follow the steps below to remove ivy from walls:
---
Step 1. Pull out each vine gently to prevent damaging the wall.
Step 2. Leave any leftovers to dry out with time, so they could become easier to remove.
Step 3. Apply weed killer to the ivy's ground roots to prevent it from growing back again.
Step 4. Scrape off remaining rootlets and tendrils with a steel brush. For wooden house exterior and wooden fences use a sander instead.
Home remedy alternatives
Not a fan of chemistry, eh? No worries, we got you covered. Here are 3 non-toxic, Eco-friendly methods to deal with overgrown ivy. Note that these require time, usually months, before you can see any positive outcome.
The good ol' white vinegar method
Arm yourself with a garden sprayer or a regular spray bottle. Fill in the container with a mixture of 80% water and 20% white vinegar. Spray the ivy plants thoroughly, making sure you don't affect any other plants you don't want to get rid of. Wait for a couple of days and inspect the result of your efforts. Pull out and remove any dead ivy and re-apply the same solution as much as needed.
Duct tape, table salt, and water
This trick is suitable for treating thicker vines. Make a fresh cut on each one using your garden clippers, wrap them around with duct tape to form something like a cup. Pour ¾ table salt in each cup and apply a bit of water. This way you attack the ivy's vascular system and the plant should be completely dried out within a couple of months.
Sheet mulching
Create thick layers of mulch by using old newspapers, cardboard, dead leaves or grass, or other similar matter, and place them on top of the area where ivy grows. Your goal here is to suffocate the ivy, preventing it from receiving its life-sustaining resources like light, water, and air. As for those mulch materials, they are biodegradable, meaning they will decompose with time and become one with the soil.
Call the professionals
In some cases, ivy can get out of hand and completely cover your whole fence, trees, or walls. In such cases, it is best to consult a professional gardener and we at Fantastic Gardeners are happy to help. Get in touch with us to book yourself an ivy removal service.
Need help removing the ivy from your garden?
Enter your postcode to view our rates and availability in your area.
***
Did you like this guide? What are your tips and tricks to battling ivy – when it's not welcomed in your garden? We'd love to hear your take on this matter in the comments below.