Many UK homeowners nowadays have abandoned the idea of gardening their street-facing green space, whether they have given a priority to their car parking needs or have just decided on tending to a low-maintenance front lawn. Their focus is often placed on the backyard, where they can enjoy a green retreat in privacy.
So, are you one of those townies who now feel tired of the unexciting look of their outdoor front space? Are you wondering about how to improve your property's kerb appeal by unleashing your front garden's potential?
Then, read on because with this post, we'll look into some landscape ideas for your home's front plot. We'll explore the growing trend of bringing back the once popular and very British front garden.
Front gardens in the UK – benefits and trends

What's been happening to the British pride and joy?
The front garden in Britain has been slowly disappearing. The tendency of paving the front of our homes has resulted in turning 1 in 4 gardens into boring parking spots. The reasons behind this 10-year shift in the way we have been wiping out plant life outside our doorstep are more than one.
From lacking enough parking space on our street to being reluctant about spending time and resources on extra garden maintenance, we've tried to make our lives easier by killing our front gardens.
But things are changing. The environmental repercussions of the front garden's decline became far too obvious to ignore. In 2015, the RHS launched an exciting project, which aimed at reviving the green outdoors at the front of our homes.
The Greening Grey Britain project – front gardens are coming back
One of the purposes of the RHS's initiative to make our front gardens green and blooming again is to slow down the adverse effects of the environmental changes on our health and well-being. Researchers believe that by bringing back the lush green in our urban communities, we can combat flood and heat issues, as well as reduce pollution and encourage wildlife to thrive again.
Concrete or paved gardens increase significantly the Heat Island Effect due to lack of vegetation, which otherwise regulates more effectively urban temperatures and localised weather conditions. In addition, hard surfaces cannot absorb dust and rainwater as well as green areas can. This inevitably results in poorer quality of air and potential flood problems, due to an overwhelmed drainage system.
Furthermore, it has been proven that Nature has a positive effect on our mental well-being, not to mention that gardening, as a pastime, has an undeniable therapeutic effect on people who live in stressful and busy-lifestyle urban settings. So, with nearly 4,5 million front gardens in Britain, which contain no plants whatsoever, alarm bells rang and the Greening Grey Britain initiative was born.
Why reinvent your front garden?
Let's explore the numerous benefits of the front garden revival:
Good for the environment – Trees, shrubs and other plants in your garden control the rise of urban temperatures and absorb rainwater better than hard surfaces.
Beneficial for your well-being – The calming effect of vibrant colours and vigorous greens on your mental well-being is an irrefutable fact.
Enhanced kerb appeal – There's nothing more satisfactory than coming to a home that looks aesthetically pleasing to the eye and that you can be proud of to invite your friends to.
Increased property value – The saleability and rentability of your property will immediately shoot up if your front garden looks well-maintained and lush.
Welcoming to wildlife – Birds, bees, butterflies and other beneficial insects will certainly flourish in the natural microhabitat that your garden will create for them.
Noise and pollution reduction – Hedges, shrubs and climbers are your natural defence against dust and noise. Plant screens and green walls will also provide you with some privacy, too.
Easy to combine with a driveway – A well-designed front garden doesn't need to exclude the so needed driveway or parking space. Plant life can be easily combined with the functionality of practical outdoor features, if you resort to a professional landscaping assistance.
Your front garden planting tips
Of course, there are no limits to what you can plant in your front garden. Your choice will be defined by the size of your plot, your lifestyle and whether you need to incorporate a paved area for your vehicle.
1. Combo designs – green space with a driveway
A functional parkway can easily co-exist with a pretty garden area, regardless of its design. Whether you plant tough and low-maintenance ground covers, such as Bigroot Geranium or Creeping Thyme, in a rectangular shape, which you could park your car over, or you'll fill the corners and outside borders of your driveway with evergreen bushes – the choices are aplenty and versatile.
Furthermore, small front gardens or such that have an already built paved parking area can be refreshed with hanging baskets, window flower boxes, pots and planters, cleverly placed in strategic spots.
2. What type of plants to use in your front garden
It's impossible to go through the vast selection of suitable plants that would fit in nicely in your front garden, be it small or medium-sized, with or without a driveway. But as a general rule of thumb, gardening enthusiasts are advised to go for hardy perennials, which can withstand exposure to the elements and don't require too much care.
3. Hedges
For a presentable, neat and formal front garden look, the most appropriate hedge plants are yew (Taxus), box (Buxus) and beech (Fagus). If you prefer, however, blooming natural screens, then you can go for the snowball bush (Viburnum) or hawthorn (Crataegus). The above mentioned hedges are easy to look after, you just need to know when an how to prune them. Avoid certain Conifer plants, which are notorious for causing fallouts between neighbours.
4. Flowering bushes
You don't have to settle for the unimaginative rosebush in the centre of your front garden. From the dramatic Smoke Bush, pastel-coloured Reblooming Hydrangea or easy-to-grow Potentilla to the strong-scented Butterfly Bush or Lilac – you can arrange a vibrantly colourful display in front of your home that gives you pleasure and attracts the eye of any passers-by.
5. Evergreen shrubs
Emerald 'n' Gold, Inkberry Holly and Bearberry are all evergreen shrubs that will provide you with an all-year-round foliage arrangement in various shades of green. They are not hard to maintain and will add texture to your front outdoor space.
6. Climbers
Appropriate your property's facade and plant some climbers, especially if you own a small-sized garden. Jasmin, Alpine Clematis or Climbing Hydrangea are all suitable for dressing bare wall surfaces, wooden fences or entrance arbours. Beware of planting ivy along the walls if you suspect any weak points in the masonry of your house.
7. Trees
A small fruit or decorative tree can become a focal point in your front garden even if it lacks much space. For instance, a Flowering dogwood is ideal for tiny gardens because its branches grow vertically. Or as long as you prune correctly the beautiful Magnolia tree, you can enjoy its whites or pinks, without worrying that it will overtake your front outdoor space.
Front garden designs – practical considerations & creative ideas
To make the most of your front garden and find inspiration, regarding the design that will work best, we've compiled some important considerations to think about:
1. The space-saving vertical garden
You can resolve space issues with your garden by incorporating trellises and frame structures along existing vertical services and grow climbing plant varieties of your choice. This way, you'll be able to play with depth and perspective, by creating different contrasting layers of greenery and blooms. Even if your garden lacks soil, you can use different sized pots, wall plant pot holders and plant stands to bring a palette of colours into your life.
2. A front garden that fits in with the surroundings
What's behind the idea of designing a front garden that corresponds with its immediate surroundings? It's simple. Ensure that your plant varieties do not clash with the exterior of your house but rather complement it. Think evergreens and red brick, or white-washed gravel hardscape and brilliant orange.
Don't be afraid to "spill" your garden out on the street. Whether a cluster of self-seeders "escape" on the green strip outside your gate or a cheeky bush forms a cascade of flowers along the street-facing side of your wooden fence – the effect can be striking.
3. Gardens with a well-thought symmetrical balance
Finding the right symmetrical balance is often vital for front gardens, especially if they are on the small side. Imagine how cluttered it would look if you plant randomly your favourite flower varieties without the well-thought consideration for an aesthetic colour scheme and fittingly balanced plants' positioning.
Think about empty spaces, corners, patio borders or driveway edges and work with what you've got. Consider your visitors and guests by leading them gently to the front door with green features, incorporated in your garden design.
4. The natural and wildlife-friendly garden
Bring out your artistic side and walk away from the formality of straight lines and neat edges. Self-seeding flowers and grassess are perfect to create a micro-prairie or meadow-style front garden. Your neighbour may frown at the thought of having wild flowers deemed as weeds but you'll be the one who will enjoy pretty butterflies, pollinating bees and chirping crickets if you choose to have a wildlife friendly front garden.
5. All-season garden design
As the front garden is what people see, you don't want it to look bare, dull and grey in the winter. Ensure that you plant evergreens that produce red berries in time for the winter holiday season. And of course, nearer the time, you can always add a potted Christmas tree, which once decorated, will light up your front garden and act as an attractive focal point.
Permeable paving in front gardens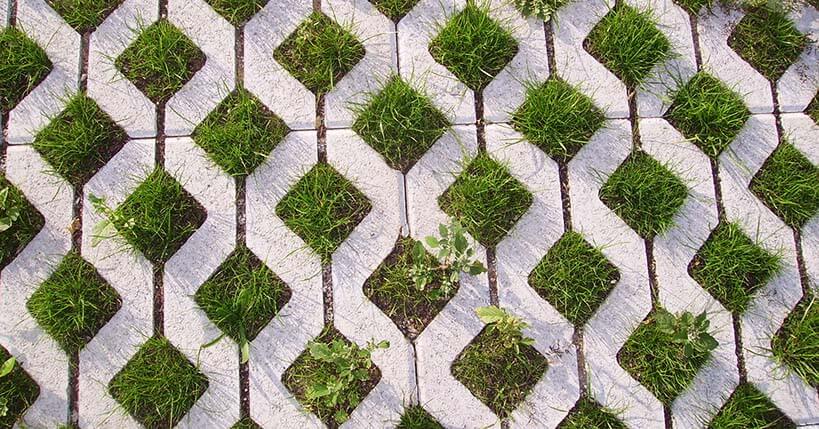 Ideally, it's best if you avoid using paving in your outdoor front property space. Still, if you've decided to include decorative hardscape or a practical driveway in your front garden, it's vital to ensure that it's a permeable hard surface.
Advantages of permeable paving
Firstly, you will not need planning permission to install (new) or replace an existing permeable paved surface. But the main advantage is that permeable paved fixtures resolve swiftly drainage issues. They effectively absorb rainwater, so your property will be protected against potential flood problems.
In contrast, surfaces made from impermeable materials can contribute to subsidence troubles and weaken outside structures and the foundation of your home. If rainwater doesn't have a way to reach the soil underneath, especially if clay, the lack of moisture will cause it to shrink and hard surface on top may crack.
Types of permeable paving
Some of the popular permeable materials you can use for your paved area or driveway are gravel, matrix pavers, brick pavers, pervious concrete and interlocking concrete blocks. What you choose, however, will depend on the size of front your garden, your budget and design preferences.
With gravel being the cheapest to purchase and lay, it's also the easiest to fit in with your existing front garden design. In addition, the market offers plenty of products that are designed to reinforce grass surfaces, providing you with safe-to-park options for your car.
Legal considerations
As we've mentioned above, you're not required to apply for planning permission to construct your driveway with permeable materials, be it gravel or porous asphalt. If you decide, however, to install an impermeable hard surface, which covers more than 5 sq.m and has no proper drainage, incorporated into the design, then, you'll be legally obliged to contact your local council and get the necessary planning permission. This won't apply only if you ensure that your non-permeable driveway directs the rainwater to a previous surface, such as a flower bed or grassed border.
Also, note that special rules have been implemented, regarding development and construction rights, if you reside in a location deemed as a National Park, a Conservation Area or a World Heritage Site. So, always check with the local authorities about what your particular case may require.
So, there, we hope we've given you a helpful insight on the benefits of sprucing up your property's kerb appeal through designing an aesthetic but functional front garden. While taking into consideration various practical issues that your individual garden design project might have, you can still apply your creative vision and make your front outdoor space the talk of the neighbourhood.
And why not entrust your garden ideas to the Fantastic landscaping specialists who will gladly offer their expertise and experience to make your dream front garden come true?
Need a landscaping specialist?
Enter your postcode to view our rates and availability in your area.
***
Did you find this article helpful and worth sharing? Or do you have any other interesting ideas on how to improve your front garden look? Then, please, tell us about them in the comment box below!
Image source: Shutterstock/by mubus7