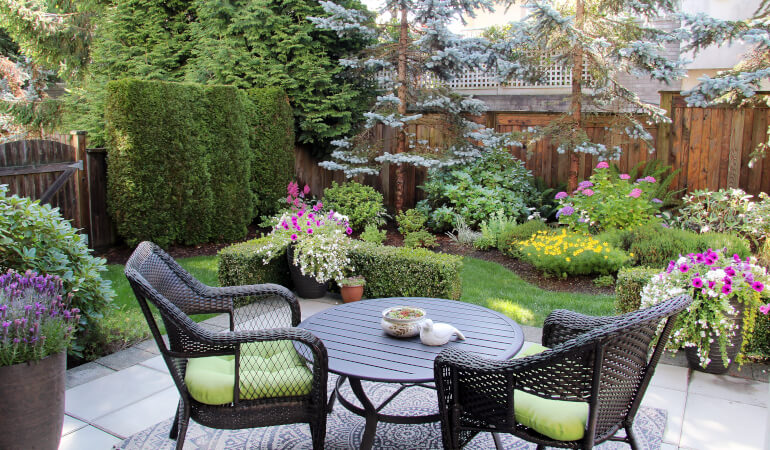 Evergreen trees can positively enrich your garden's appearance thanks to their ability to look amazing all year round. Moreover, evergreens offer much-needed shelter for birds and other animals in the cold winter months. They also come in a variety of sizes to suit your preferences. The smaller ones work great for gardens with limited space, while the larger trees are excellent for screening.
If you have a small garden space but would still like to enrich it with amazing-looking evergreen trees, keep reading as we have a few useful tips to consider when choosing a tree. Additionally, there's also a plethora of smaller evergreen tree options suitable for you and your green space. Read on!
How to choose the right evergreen tree for your small garden
As far as reproduction goes, some conifer evergreen trees reproduce by dropping their cones packed with seeds, while others tend to drop their seeds at the end of their growth stage.
It's important to consider your area's climate. Unlike deciduous trees, which shed their leaves from autumn to winter, evergreen trees are hardy and tend to have multiple layers of branches with constantly present green leaves. The leaves come in a needle-like shape and grow out of their branches, but there are also species that can produce broadleaf foliage. Regardless of what specie you decide to plant in your garden, the climate is very important for the health of the tree. Some trees can be evergreen only in certain weather conditions, so see if the specie you have in mind and the climate in your area are compatible.
Consider the tree's maximum height and the shade it will produce. For example, if the tree you have chosen is too big for your garden, it might cast a huge shadow on your other beloved plants, greatly limiting the intake of the needed sunlight.
Also, don't forget to figure out where you will plant your future evergreen tree and in what conditions. This will help you pick the tree with the perfect size and growth rate for your space. The spot you pick will also determine how much light the tree will get during each part of the day, the soil in which it will grow, the plants and other trees surrounding it, etc. After all, there's no point in planting it, only to have to move it later.
Root spread (typically matching the height of the tree). Plants tend to compete with each other for nutrients, especially if they're planted in the same soil. Given the fact that trees have a large root system in general, they will leave the rest of your plants starving for their much-needed nutrients.
Pruning needs. Pruning is essential for keeping a tree in a healthy condition. It can encourage fruit growth, prevent diseases, encourage the growth of new and strong branches and strengthens the roots. Depending on the tree, it may need less or more frequent pruning sessions in order to thrive.
Evergreen trees to grow in your garden
Evergreen trees tend to be low maintenance, able to maintain beautiful colours and foliage throughout the year, with minimum to no effort from yourself. Here are the tree varieties that can suit your garden perfectly.
Strawberry Tree (Arbutus unedo)
The Strawberry tree is a highly preferred choice for enthusiastic gardeners due to the tree's fascinating character. Its evergreen foliage, peeling bark and stunning white flowers that bloom from October to December can add to the beauty of everyone's backyard.
This Strawberry tree, in particular, grows at a slower pace, making it one of the best options for people who have limited garden space.
After their flowering stage, they produce a fruit similar to strawberries, although with a different shape and flavour. The fruits are perfectly edible directly from the tree itself. However, they are best used for syrups and jams.
The Strawberry Tree thrives in full sun and also needs well-drained sandy, clay or loamy soil.
Olive tree (Olea europaea)
This Mediterranean beauty grows decently well in sunny and sheltered UK areas. The olive tree is compact in size, making it possible to grow in a pot as well. It has evergreen leaves, in grey-green colour.
The plant grows best in hot and dry weather conditions, meaning that it needs lots of sun, preferably a shelter from strong winds and free-draining chalky, loamy or clay soil.
The tree looks best in modern-looking gardens, and you can grow it in a pot as a bush or as a small tree on a single stem. It also pairs excellently with other Mediterranean plants, making it a beautiful feature of sunny garden spaces.
Alpine Snow Gum (Eucalyptus pauciflora subsp. Niphophila)
Alpine Snow Gum (also known as Eucalyptus pauciflora subsp. Niphophila) is a small and hardy evergreen tree with a uniquely beautiful bark, with cream, green and grey patches all around, which appear during summer.
The bark of the younger branches is usually red in colour, adding to the esthetic of the tree. The tree's foliage is ovate with a blue-grey colour when young and elliptical, blue-green when mature.
In summer, you will notice that Alpine Snow Gum will start producing clusters of fluffy white flowers amongst the foliage, making it an excellent ornamental tree suitable for most gardens.
The living conditions that the tree requires are total exposure to sunlight and moist but well-drained loamy, chalky or clay soil.
Chief Joseph (Pinus Contorta)
This tree is living proof that not all evergreen trees are boringly green in colour. When temperatures drop, particularly in the fall and winter months, Chief Joseph's needles become bright gold, which is amazing to witness!
It's relatively small in size, making it a decent option for small gardens. However, the tree can also be a beautiful feature in a larger garden, because of its interesting colour.
Pinus Contorta needs acidic and well-drained soil and full sun exposure to develop properly. The tree is also straightforward to take care of, as it doesn't need any pruning on your part.
Russian Olive (Elaeagnus Angustifolia)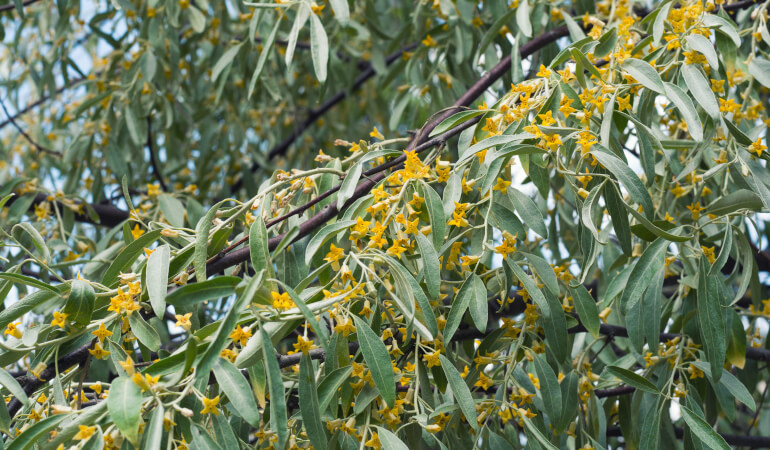 If you adore olive trees, but the weather where you live is too cold or damp, then Russian Olive can be an excellent alternative for you. The tree's foliage has a shiny silvery look, and it develops white, honey scented flowers in June. Also, expect to see small, orange-coloured fruits, which grow from August to October.
Russian Olive grows well in partial shade or full sun and is able to thrive in moist soils. The tree is also hardy enough to handle wind and coastal weather conditions.
Holly "Pyramidalis" (Ilex aquifolium "Pyramidalis")
This plant grows from a shrub to a small tree with a crown densely packed with branches with a narrow pyramidal shape. It has smooth-edged leaves that are dark green in colour, or alternatively, the leaves can have several small spikes on the upper part of the leaf. It's also important to note that this type of Holly is self-pollinating.
Holly "Pyramidalis" produces white flowers in late spring and early summer, followed by freely grown berries with bright red colour. It tolerates moist and well-drained soil and also prefers either partial shade or complete sun exposure.
Get professional to help with your garden needs! Learn more about our garden and lawn care services and how you can benefit from them.
Holm Oak (Quercus Ilex)
Holm Oak is a well-shaped tree with a round crown with dark, glossy green and pointy leaves. An interesting feature of the Holm Oak tree is its green acorns that turn dark red afterwards.
It's good to keep in mind that the tree needs frequent shaping in order to maintain its size under control. If you have a small garden, it's best to trim it in order to shape it so it fits your garden just right.
The tree is hardy enough to resist wind and even salt spray, making it ideal for a coastal climate. It also enjoys full sun or partial shade and any soil which is well-drained.
Bay Tree (Laurus Nobilis)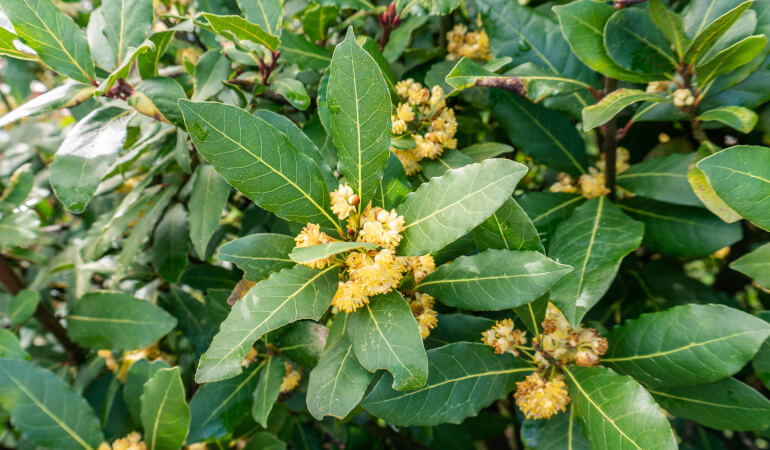 An exquisite and eye-pleasing tree, Laurus Nobilis is a perfect choice for beginner gardeners because it doesn't need much maintenance. It grows best in a pot filled with well-drained soil-based compost, or alternatively, you can also plant it in the ground.
It also enjoys being partially or fully exposed to sunlight. A lovely feature of the Bay Tree is that its leaves are fragrant and edible as well.
If you decide to grow this tree in a pot, remember to add control release fertilizer pellets, or alternatively apply a liquid feed twice a week in the middle of spring until late summer. Also, remember to repot the tree every 2-3 years. Shape this tree by pruning it in summer.
Chusan Palm (Trachycarpus Fortunei)
This beautiful palm plant stands out with its big, glossy, fan-shaped leaves, which develop from a fibrous trunk on lengthy stems. It also produces gorgeous creamy yellow flowers when early summer arrives.
It's important to note that Shusan Palm needs to be sheltered from frosts and cold wind. However, you can grow it in a pot, which can be a perfect feature for a small garden or, alternatively – a balcony garden.
The plant enjoys either full sun or partial shade, and it also prefers loamy or sandy, well-drained soil.
Dwarf Scots Pine (Pinus Sylvestris 'Watereri')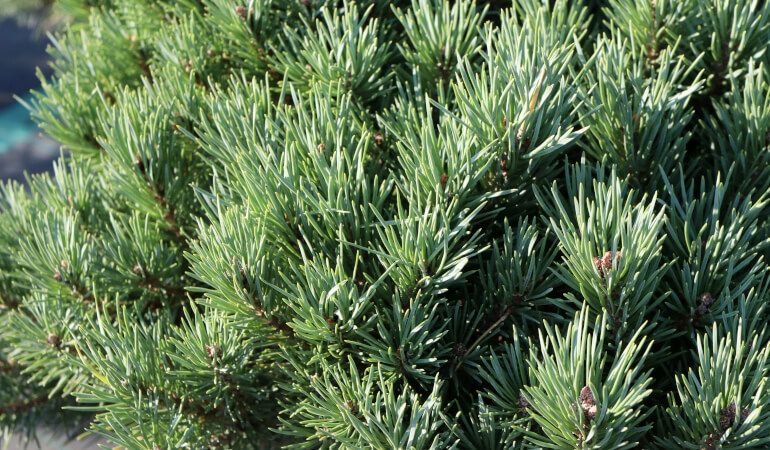 This gorgeous dwarf evergreen tree is very compact, reaching a maximum height of 3-6m and 5m wide. It also grows out very slowly, making it ideal for pruning and maintaining a size that fits your garden.
The Dwarf Scots Pine unique characteristics are its cinnamon-coloured branches and blue-green needles.The tree also produces miniature cones and red-brown flowers.
This specimen is also exceptionally hardy, and it's able to withstand strong winds and cold temperatures, making it a decent option for open terraces and coastal areas.
The tree enjoys full sun, as well as loamy, chalky or sandy, well-drained soil.
Do you need a garden makeover? Contact the professionals!
Enter your postcode to view our rates and availability in your area.
Takeaways
Consider your location and the weather conditions before choosing a tree for your garden.
Don't forget to consider the maximum height and width of your chosen tree. A very important aspect to have in mind, so your other plants don't suffer from the shade.
Evergreen trees provide the perfect shelter for wildlife.