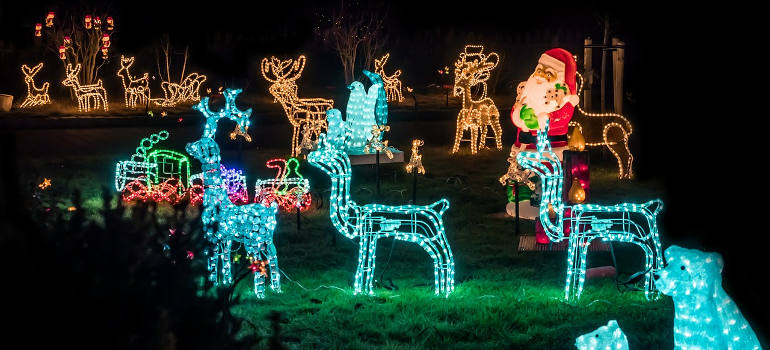 Outdoor Christmas decorations are key in creating cheerful and festive ambiance during the holiday season. Whether you're going all out, making your house and garden the envy of the street with elaborate light designs and displays, or your just want to welcome your guests with a simple hand-made wreath and some soft candle glow, we offer you suggestions on how to decorate a garden for Christmas to lift spirits and make warm memories during the cold days and nights.
---
The Christmas Lights
---
They are the number-one choice in Christmas decorations for a reason – no festive decoration is complete with them, whether you only choose to outline the front facing windows, to wrap columns or deck the entire porch with lights.
Mix light sources.

In order to be captive of only the soft glow of twinkle lights, you will need to subdue your year-round exterior lighting. Consider changing year-round bulbs with lower wattage ones to let twinkle lights  immerse the outdoor space in their soft glow.

Wrap hedges.

It is best that you opt for net lights – they might be a tad more expensive than strand lights but they offer convenience and precision of installation which saves time and is worth the investment.

Dress up trees.

 Create a consistent stopping point along each of the trees, regardless of the difference in height. The twinkle lights should be wrapped at approximately the same height to create symmetry and give the composition balance.  

Bedeck the door

– add lights to your wreath or garlands.

Light walkways.

Adorn small shrubs and / or trees around walkways with a few strands of lights as to not make them visible from but the street but still serve as a sophisticated pointer to your guests.

Use lights on timers.

Consider timer activation for a low-maintenance approach to exterior holiday lighting. An average-sized home will require between two and four 1500-watt plug-in modules to keep the exterior safely lit and perfectly timed. Options vary in style but most simply plug into an exterior outlet.

String lights and greenery.

Wrap light strands around a column or post with Christmas greenery or a garland to hide the wires.

Use shapes.

Group Moravian stars in odd numbers, placing them randomly on tree branches to create an alluring glow. With their graphic shapes, the stars  bring diversity into the monotony of Christmas lights along the house and hedges.

Put lights in baskets and jars.

Reveal the inner glow of an ordinary basket with a 100-bulb string of small pearl lights. Place them inside coiled vine baskets, fill it with clear plastic ornaments and top it with a 50-bulb strand of small white lights. Or, just put the light strands in mason jars and display them across the porch to make a stunning glowing garland.  

Make Christmas light orbs.

Wrap spheres of grapevines with Christmas lights and scatter them across a coat of freshly fallen snow or position them along front steps. These glowing balls add an ethereal touch to an exterior space for a truly magical holiday.
---
The Front Door Wreath
---
A unique wreath is the easiest way to stand out and impress your guests. There are plenty of options when it comes to colours, materials, ornaments, and even placement. Find the right combination for you and make a statement.
Try different colours.

 
You can always go for the classics in front door Christmas decoration with the red and green colour scheme, enhanced by poinsettia plants and lights for the perfect dose of holiday cheer.

Another traditional option is the sophistication of red and silver ornaments among fresh greenery.

If you're looking for a way to stand out, you can always go for pastels like white, yellow, and sea green or add a dash of unexpected colour such as ripe-orange or tangerine that will give your front door a fresh look.

White is a great contrast to dark or brightly coloured doors.

Step up the traditional Christmas red-and-green colour pattern with a modern twist. Add an accent to a green door  with an all-red wreath or place white and blue on lighter doors or silver and gold on darker doors.
Experiment with materials.

Stand out from the evergreens and pinecones along the street with unconventional materials such as paper, yarn, felt, and even cork. Give the classic wreath a modern spin with rolled-up cones of printed paper, or wine corks.

Play with shapes.

 You can make an unconventional alternative to the wreath classic with almost any object of the appropriate size – use a serving dish or  ceiling medallion as the centerpiece of the holiday door, and step it up with bold details – add colourful ornaments and  ribbons to make a statement.

Use natural objects.

If ribbons and toy ornaments are not your thing, go au naturel with pinecones, berries, seeds, and even apples and pumpkins instead!

Find the best plant for your wreath.

Use fern for a really fresh take, cedar is always elegant accentuated with golden bells and a matching bow, and pepperberry on a vine wreath is the perfect way to bring some holiday cheer with a colourful accent. You can also make a fragrant wreath using bay laurel or rosemary – it will fill your home with a sweet scent and when the holidays are over, you can dry the herbs and use them later for cooking. Or, if you're going for a true Christmas classic, embellish silver fir with holy berries.

Use ornaments you already have.

Use hot glue to make a wreath out of bells, tree ornaments, and present to give both contemporary and traditional homes an accent.

Place more than one wreath.

More is better. Hang two wreaths side by side on gate doors, or arrange three vertically to cover the length of the front door.

Rethink wreaths.

Wreaths can be used in a variety of ways, not just as front door decorations. Place a small evergreen wreath around the base of a small outdoor planter or lantern for a festive touch or turn a horizontal ornamented wreath into a chandelier – simply suspend it from the ceiling using ribbons.
---
The Porch and Lawn
---
Plant a huge christmas tree. You probably have a decent size tree in your living room. That's perfect for unwrapping presents on a cold christmas morning. However, if you have a really strong christmas spirit, you can go further and install a huge Christmas tree for the whole neighborhood to bask and glorify.
Make a holiday bench.

Decorate your front yard benches with evergreens, berries, pinecones, Christmas globes, and ornaments. Add extra winter flair with a light dusting of fake snow.

Wrap columns with garland.

Your front yard will look a lot more festive with a lush green garland accentuated with ornaments.

Add fresh and faux flowers.

You can incorporate  winter flowering plants into your holiday decorations – poinsettias always work miracles in adding that festive touch.

Use garden-inspired door decorations.

Make leafy garlands and matching front door decorations from evergreen branches, pinecones, berries, apples, magnolia leaves, and festive holiday ribbon.

Decorate the window boxes.

Check out our ideas on how to decorate your window boxes.

Use seasonal items.

For a vintage feel, display a collection of objects with winter flair – fill buckets or planters with candy canes,  faux snowballs, or branches and Christmas lights. Lean a wreathed sleigh against the wall, prop up a pair of old skis, or place ice skates in the centre of your wreath.

Give your outdoor planters a holiday makeover.

Use a few round ornaments, birch branches, and grapevine balls. Dress up bare branches in festive Christmas lights and turn your dormant window planters into decoration space by planting hardy shrubs until spring arrives. Add simple wire stars and white lights for a festive glow.

Add light.

Decorate lanterns with fake snow and berries, or greenery and bows,  and use the soft glow of candlelight to make your front yard and walkway a magical place.
---
What to Recycle and Upcycle
---
There are plenty of items you can recycle and upcycle as Christmas decoration.
Display skis, skates, sleighs, and even a re-purposed wagon filled with faux snowballs.

Fill old rain boots with twigs and lights, or candy canes.

Use jars – fill them with Christmas lights or make lanterns using greenery, berries, ribbons, fake snow and of course candles.

Recycle paper. Make a wreath from old paperback pages shaped like ribbons or make ornaments and garlands from the junk mail you receive over the holidays.

Spell out merry wishes and names with old scrabble pieces and keyboards arrange them on strands of ribbon or fabric with hot glue to

Make stockings from old heirloom quilts and sweaters.

Upcycle old pillows – make a decorative pillow with basis supplies and stencils and place it on a chair or a bench to give your front garden a cosy feel.  

Decorate old planters – add seasonal greenery to old outdoor planters or fill them with decorative candy canes, glass ball ornaments, fresh-cut boughs of cedar and pine.
Check out our 'Winter garden' collection here:

How to Add Colour to Your Winter Garden
Christmas Tree Buying Guide
How to Prepare a House for Winter
12 Popular Christmas Plants
Replant, Reuse, Recycle – 3 Responsible Ways to Dispose of Your Christmas Tree
How to Save Your Garden This Winter
10 Blooming Flowers for your Winter Garden
Get Your Real Christmas Tree by Fantastic Gardeners
Enter your postcode to view our rates and availability in your area.