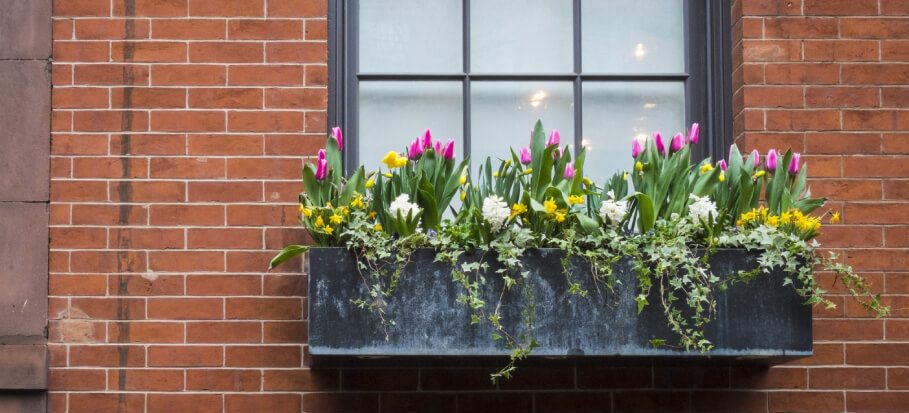 Window boxes are a fast and easy way to update your exterior and add a pop of colour to your walls. You can plant various types of plants and flowers and impress your guests and neighbours. If you were wondering what to put in a window box and what types of window boxes you can have, then continue reading our article.
How to plant a window box?
Before you proceed to planting flowers into your window boxes, there are some factors you should consider beforehand. First, you need to measure the length of your windows and decide what design you are going for. You can either make your planter yourself or buy a new one.
Whatever your choice is, your window box should be well-secured and installed on the wall outside. In fact, there aren't too many steps one should follow to install window boxes properly. But if you think you don't want to mess up with that, feel free to hire professional landscapers who will do this for you.
Apart from asking yourself how to plant a window box, perhaps you are also wondering how deep a window box should be or what to put in the bottom of a planter for proper drainage. Well, first of all, pick a container that has drainage holes and then add a layer of broken terracotta pots to prevent water lodging.
After that, add a layer of compost to feed the soil as well as gravel to allow the water to drain easily. You can add another layer of compost to your container, too. All that is left to do now is to plant the flowers of your choice.
Carefully take your plants and flowers out of their pots and place them into your window box container along with their soil. Make sure you don't hurt their roots while doing so. Remember not to put your window box flowers too close together as this will create an ideal atmosphere for plant diseases to spread.
As soon as you are done planting, apply some more compost between the plants to fill the gaps. Press the compost down using your fingers and water your plants. Some people prefer to do so before planting, but you can water them after you add them to your window box. This is how easy it is to plant a window box. If you haven't decided what plants you want to grow, we hope that our suggestions below will serve you well.
What to grow in a window box?
When it comes to planting window boxes, your options are not limited at all. In fact, there are many variations and combinations you can make so that your window boxes stand out. However, plants differ due to their sunlight and water preferences. That's why it's important to plan ahead what plants and flowers you'd like to grow.
Flowers
There's a wide variety of trailing plants for window boxes that can add texture to your window box. They are delicate flowers that give your walls the fresh greenery that they need.

The cold weather isn't a problem for Pansies. They can withstand low temperatures and are the perfect companion plant for violas. Growing pansies and violas in window boxes is a quite popular way to add brightness to any window box. However, you can also go for more unusual window box plants, such as black-eyed Susan vine, for example.
Petunias are among the best flowers for window boxes in full sun and always make a great addition to any window box, too. They are the perfect container plant that comes in an array of vibrant colours you can choose from, such as red, purple, pink, white as well as striped species. No matter what variety you go for, this plant's blooms will definitely make your window box show-stopping.
Pelargoniums are easy-to-grow and are such a popular container plant. It also blooms in various colours and makes your window boxes look fuller and vibrant. In terms of plant care, remember to deadhead your Pelargonium plants on a regular basis for proper growth.
Spring blooming species such as tulips, yellow daffodils and hyacinths can make your window box look like a spring bouquet. Mixed together, those plants' bright colours will definitely take your container garden to the next level.
Tip: Make sure you don't mix sun-loving and shade-loving plants together in your window box. You can either combine sun-loving species only, or shade-loving examples for a beautiful window box display. Also, keep in mind that your plants should be protected from the wind.
Others plants
Strawberries, for example, can thrive in containers so you can grow them in your window boxes as well. You need to keep them well fed and watered so that their red colour compliments your walls.
Tomatoes, chillies and lettuce are also great varieties that will thrive well in your window box. Thus, you will have access to fresh produce and greens for your salads at any time. This is an awesome advantage that can't be beaten.
Herbs
If you were wondering what herbs grow well in window boxes, we've got the answer for you. In fact, growing herbs in window boxes is not difficult at all and it's just as fun as growing flowers or veggies. All herbs have unique flavours and having them on hand makes cooking much more exciting. For your convenience, we've prepared a list of herb combinations you can grow successfully in window boxes:
How to combine plants?
Combining various plants in the same pot can result in a great-looking window box project. However, the growing conditions of all the plants you want to grow together should be taken into consideration. Some plants need frequent watering, others prefer less water.
Overwatering or underwatering plants may actually lead to killing them. Sunlight exposure is also another major factor to consider. Therefore, in order to grow healthy plants, they should all be given the care they demand.
Your container gardening companion plants should have the same preferences in order to thrive successfully in window boxes. As mentioned above, try not to mix sun-loving varieties with shade-loving window box flowers. The best way to decide what plants and crops you can grow in window boxes is to check the direction your window is facing.
If it gets plenty of sunlight daily, then sun-loving plants will do just fine for you. Yet, you can go for plants for window boxes in shade if your window doesn't get enough bright light during the day.
Tips for a perfect window box
Choose the right potting soil – If you want your window box flowers to grow happily and thrive, then plant them in a good quality potting soil. This way you won't have to replace it every year.
Don't forget to fertilise your plants – This way you will provide them with the necessary nutrients they need to grow well. First, we'd recommend that you start with a slow-release fertiliser. After that, you can start applying liquid fertiliser regularly to ensure your plants get the minerals and nutrients they need.
Water your window boxes often – Soil tends to dry out quite fast so try to keep it moist by watering your plants frequently. This is an absolute must-do task to make sure your window boxes get really impressive. Otherwise, the plants will dry out and die.
Provide proper drainage in your window boxes – "What to put in the bottom of a window box?", you may ask. Well, a few pieces of old broken terracotta will work just fine. They will help improve the drainage of the soil in your window boxes but make sure the containers have drainage holes.
Window boxes bring walls back to life with their vibrant-coloured flowers. They can easily increase your property's curb appeal and make a great addition to your overall landscape. No matter what type of plants you choose to go for, give them time to thrive and take care of them regularly.
Do you need help installing and planting window boxes?
Enter your postcode to view our rates and availability in your area.
If you found this article helpful, we'll be glad to let us know. Rate it or leave a comment below. Feel free to share our article with your friends and family on social media to let them know how amazing window boxes can look!
Image Source: robertcrum | depositphotos.com