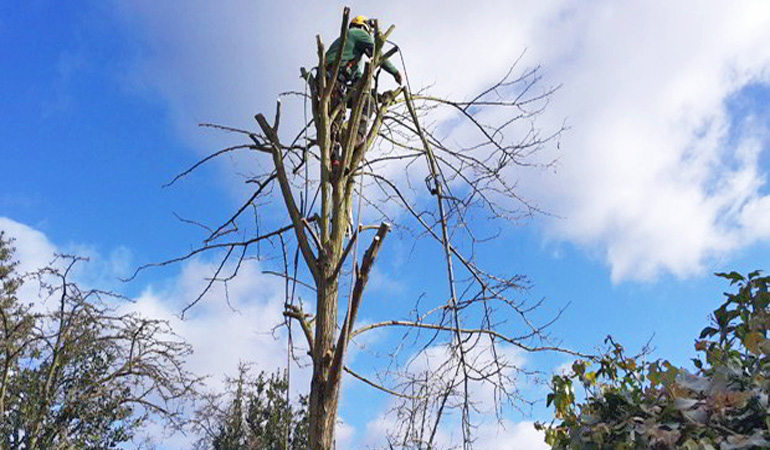 Most of the time, overgrown or sick trees are simply a nuisance, an eyesore in your otherwise impeccable garden. Sometimes, however, they can also mean trouble and your best course of action will often be to contact a specialist.
But just how much will hiring a tree surgeon cost you? Well, whether it's a maintenance-related job (pruning and lopping) or you want to remove the whole plant (tree felling), it just might be more affordable than you think. How affordable, you ask? Let's find out in our comprehensive tree removal cost guide below.
What does a tree surgeon do?
Tree surgery is the art of reshaping or felling a tree in order to make an outdoor space safer and more visually stimulating. It is a dangerous profession where people often rely on power tools, sturdy climbing equipment, and their top physical shape to prune or lope overgrown or dead branches of a tree, reduce its height, or remove it entirely so that it no longer poses any harm.
Should you hire an expert or go DIY?
Taming an overgrown tree on your own might seem like a good idea at first. However, before lifting your pruners or chainsaw with determination, consider asking yourself the following:
How big is the tree? The taller a tree is, the harder and more dangerous it will be for you to prune or fell the plant on your own.
Where is the tree located? Unsafe cutting of trees that grow near a building may lead to significant property and vehicle damage, or may even harm a person.
Do you have what it takes? Tree surgery is an incredibly risky business that involves lots of climbing and dangerous tools. Not having the right equipment and training can be potentially lethal as you and others near you risk being hit by a falling branch or a tree. You also risk sustaining injury from a slipped power tool or by falling from a great height.
For these reasons, unless it's a small tree, it's safer, quicker, and more cost efficient to hire a professional. This goes double if you need to "shorten" the tree and not completely remove it.
In addition to bringing all necessary equipment, such as chainsaws, shredders, and stump grinders, a certified tree arborist will also wear reliable safety equipment and do everything else necessary to ensure a safe working environment for you and those around you.
How much do tree surgeons charge?
Many tree surgery companies operate by offering a variety of tree surgery services as opposed to pushing service packages. This allows you to pick as many tree maintenance options as you need without having to commit to a flat fee for the service. With that in mind, let's take a closer look at the factors that will determine how much your tree surgery project will end up costing.
Accessibility. How accessible the tree is can have a great impact on your final price quote. For instance, hard-to-reach trees will require heavier and more expensive equipment to reach, and more time will be needed to clear the area from fallen debris.
Tree size. During the survey, your specialist will note down the tree's height, as well as the trunk and crown width. The larger the plant is, the more trimming work will need to be done and a specialised equipment may need to be used (e.g. cherry pickers), which will considerably bring your tree surgeon prices up.
Location. A tree located near a road or close to a fence is relatively easy to remove. Those near buildings or power lines, however, will require much more effort since every trimmed branch or other debris will need to be carefully lowered down with ropes.
Tree count and type. Naturally, the more trees you want trimmed, the more your project will end up costing. Similarly, some plant species are more difficult to handle than others.
Job type. Tree pruning, crown shaping, pollarding and height reduction might seem light maintenance tasks and, as such, take less time. However, that shouldn't fool you, as they require more expert skill, and in general, might have a higher price. However, the saved tree will pay back the investment in the long run.
Job length. Some jobs may take anywhere from a few hours up to 2 or 3 days and may require the joint effort of three or more specialists, depending on how accessible the tree is, what is the parking situation, how far away the company is located from you, etc.
Waste removal. Some companies charge the shredding and/or disposing of tree remains (branches, leaves, tree trunks, etc.) as an extra service based on volume.
Tree health and diseases. Trees affected by fungi, weather-inflicted damage or pests can become very unstable – a safety risk that will make the treatment more expensive.
With all these factors in mind, you may think that tree pruning and felling costs in the UK are nothing short of exorbitant. With Fantastic Services, however, you can book any of the tree surgery procedures that you need at affordable rates. We work with certified specialists who will source all equipment for your project, and do the job quickly and in line with all safety standards.
When to call a specialist to perform tree surgery?
If you have suspicions that the tree in your garden is not faring well and are not certain if you should seek professional help, here are some tree symptoms that will help you make the call:
Cavities or signs of decay (no bark, cracks) on the trunk;
Branches that either have brown leaves or lack any;
Thriving fungi or mushrooms around the tree's base;
Long branches that brush against one another;
Detached roots (usually present in diseased trees).
Tree cutting regulations, your project, and you.
Before you go all-in with your decision to prune or fell a tree, you need to do your research and make sure that the plant you are planning on modifying is not protected by any law or institution.
To avoid a hefty fine, read up on some of the more important tree regulations below.
Tree Preservation Orders (TPOs) – these regulations protect any tree that is thought to add to the appeal of a given area, as well as species that are on the brink of extinction.
Conservation areas – if the tree you want to modify or fell is located within such area, you will need to inform the Local Planning Authority (LPA) at least six weeks in advance with a written notice that contains a detailed description of your tree surgery project.
Planning conditions – trees near building sites or recently completed properties may be protected by the LPA, so make sure to contact them to obtain a permission first.
Felling licences – while these don't apply to trees grown in gardens, you may need to obtain a licence from the Forestry Commission if the tree lies outside of a garden space.
Real-life examples of tree surgery in action.
Over the years, Fantastic Services has reshaped many UK gardens for the better by providing professional tree surgery services. Take a look at some of the projects we've done in the past:
The Walthamstow project. For this project, a team of 2 tree surgeons was assembled to reduce the crown of a very tall tree. The job costed £120, took 2 hours to complete, and had the specialists use ropes, carabiners, ear defenders, and other gear.
The Clapham project. A customer complained that a bay tree casted a thick shadow on the rest of his garden. A team of 2 tree surgeons (one certified to climb trees up to 56 ft in height) handled the task in 3 hours, with the project costing £150 to complete.
The Balham project. This was one of our more lengthier and pricier projects. It combined the complete removal of a 49-feet-tall tree with lawn reseeding – a job that took a team of two 5 hours to complete and costed £540 in total, materials included.
Frequently Asked Questions
Q: Can I use the leftover wood chippings in my garden?
A: Not only that you can, but you really should! Instead of throwing them away, use the post service chippings in your garden to conserve water, suppress weeds, and to fight soil erosion.
Q: What is the best time to remove a tree?
A: This mainly depends on the tree species, but felling is usually performed during the winter, when all the leaves have already fallen and the new buds are still months away from growing.
Q: How much money do tree surgeons earn?
A: The typical annual salary for a tree surgeon in the UK is about £21000, although experience and further specialised training in the field can bring that number up to £28000.
Q: Do you need any qualifications to be a tree surgeon?
A: While no specific qualifications are needed to work as a tree surgeon, for example the NPTC CS309 or LANTRA standards, you do need some sort of formal health and safety training, as well as the help of a seasoned tree arborist who can teach you the basics.
Final words…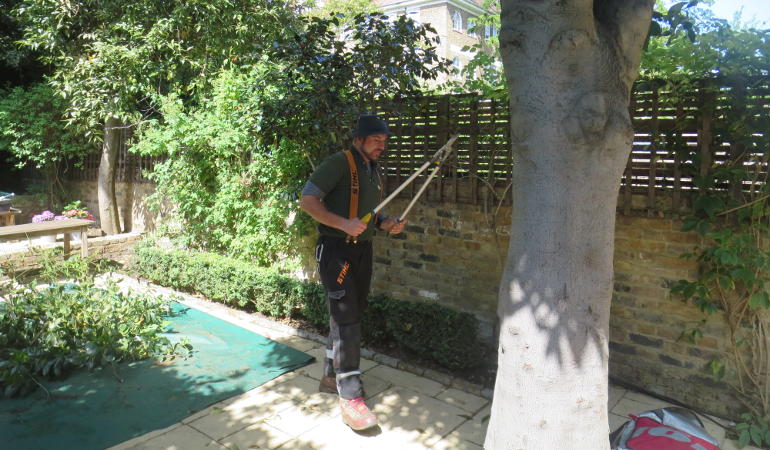 As you can see, your tree surgeon costs will be as low or as high as you make them. It's all about identifying the service that best fits your situation, whether it's a bit of pruning to turn an overgrown tree into a stylish addition to your garden, or felling in order to dispose of a sick tree.
If you don't have any clue on what to do, you can always arrange a survey with Fantastic Services. The tree arborists have the skills and qualifications to perform all tree surgery tasks – from pruning and lopping to tree removal and stump grinding – up to a high standard. Upon request, they can also assist you with lawn care, gutter cleaning, and other related work during the same visit. Here are a few more reasons why you should leave the tree-cutting work to us:
Insured and certified professionals;
Expert care of up to 65-feet-tall trees;
Providing all tools and safety equipment;
Working until the job is 100% done;
Weekend and bank holiday availability.
Do you need a tree surgeon?
Enter your postcode to view our rates and availability in your area.
***
Did you find this tree surgery cost guide useful? Maybe you are a tree surgeon yourself or a reader who frequently books tree surgery services and has valuable information (no pun intended) to share? Type out your thoughts in the comment section below, show us what we've missed, and make sure to subscribe to our newsletter to be up to date with all things Fantastic.